Germany Is Getting Paid Less to Borrow Just as Virus Costs Build
(Bloomberg) -- Germany's borrowing costs have risen to the highest since January last year as the government mulls additional spending of 50 billion euros ($61 billion) to fight the fallout from the pandemic.
The nation is getting paid less to raise funds -- a quirk of negative yields -- after rates on benchmark 10-year debt rose to an eight-month high this week, as the market bets on global reflation lifted bond yields.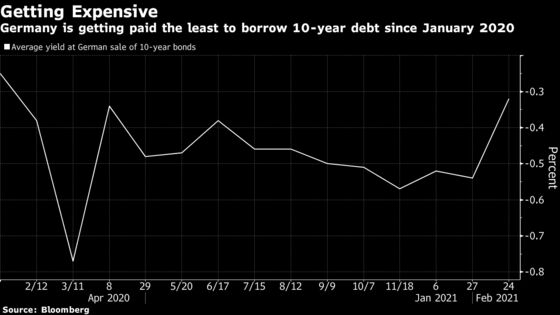 The nation sold 3.32 billion euros of 10-year debt at an average yield of minus 0.32%. Wednesday's auction comes hot on the heels of the first positive-yielding sale in almost a year of 30-year debt the previous week in a sign of mounting borrowing costs. Compounding matters, the oversubscription rate fell to 1.55 times, the lowest since March.
German bonds stayed higher after the auction, with the yield on 10-year debt down one basis point at minus 0.32%.