Germany Warns on Delta Risk After Hitting 50% Vaccine Milestone
(Bloomberg) -- Germany reached a milestone in its effort to overcome the coronavirus pandemic with more than half of the population at least partially inoculated, but warned it needed to keep up the pace to stave off the fast-spreading delta variant.
As of Friday, 50.1% of German residents have had at least one dose, and 29.6% were fully immunized against Covid-19, Health Minister Jens Spahn said at a press briefing in Berlin. Vaccinations are especially important as new strains risk hampering the country's efforts to contain the disease, he added.
"The delta variant is also spreading in Germany -- at a low level, but quickly," Spahn said. "The challenge is that it's particularly contagious and can again call into question the successes in fighting the pandemic."
While contagion rates are declining steadily overall, the strain -- first detected in India -- is gradually spreading. The virus mutations accounted for 6.2% of cases in Germany in the week to June 6, up from 3.7% in the previous seven days.
Lothar Wieler, the head of the Germany's RKI public-health institute, said at the same briefing that he expects the variant to become the dominant strain, putting non-inoculated people at risk.
"It is really not a question of if delta becomes the leading variant, but only when," Wieler said. "We therefore have to keep a close eye on this development."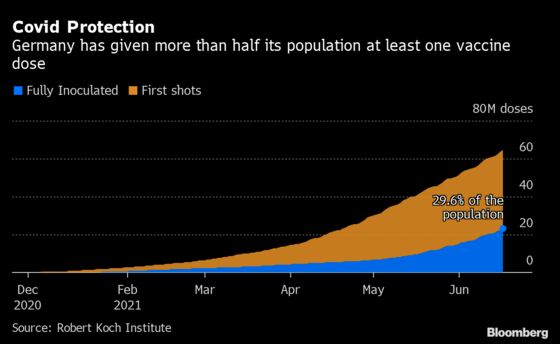 The U.K., which has fully inoculated about 46% of its population, has shown the risks posed by the strain. Delta variant cases in the country almost doubled over the past week to a total of more than 75,000, according to Public Health England. About 99% of new sequenced and genotyped cases across the country involve the new strain, the health body said Friday.
After initially prioritizing the elderly and people at greater risk, Germany opened up immunization to all adults as well as children as young as 12 earlier this month. The step was facilitated by more deliveries of vaccines, especially from Mainz-based BioNTech SE.
Spahn said the program won't be affected by disappointing trial data of CureVac NV's shot -- its development was supported by German government funds.
Following struggles to control a third wave of the pandemic, Germany has been easing lockdown measures amid declining infections. The country on Friday reported 10.3 cases per 100,000 people over the previous seven days. The figure had peaked at almost 170 in late April.
Economy Minister Peter Altmaier said Friday he expects German gross domestic product to expand by "clearly more than 4%" in 2022 after growth of as much as 4% this year.
"The economy is starting up again more quickly than many feared," Altmaier said at a news conference after talks with regional counterparts. "This means that we will again reach our previous economic strength from before the pandemic at the beginning of next year at the latest or in the spring."