Germans' Love of Gift Vouchers Is Taking a Toll on Retail Sales
(Bloomberg) -- A hefty decline in Germany's December retail sales may have less to do with the amount of money people are spending on Christmas gifts than what they are spending it on.
The country's statistics office -- which said it saw a 4.3 percent sales drop in the final month of the year -- told Bloomberg that the trend could be related to a preference among consumers for gift vouchers, which only show up in the data once they are spent.
According to the HDE trade association, coupons are Germans' favorite type of gift to give at Christmas and were forecast to make up roughly 3 billion euros ($3.4 billion) worth of retailer revenue across November and December.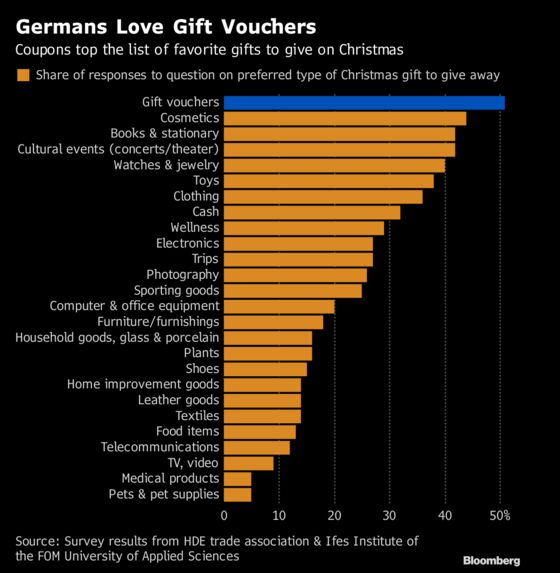 While some analysts see Thursday's data as putting the risk of recession in Europe's largest economy back on the table, the statistics office also noted that the drop followed exceptionally strong November sales, with Black Friday and Cyber Monday deals likely pulling holiday shopping forward.
Monthly data for December is frequently prone to revisions, it added, with average deviations of 2.5 percentage points across the last five years.