German Yield Curve Sends Starkest Signal on Growth Since 2008
(Bloomberg) -- One influential market metric is sending its bleakest signal on Europe's biggest economy since the financial crisis, pointing to a potential German recession with global markets gripped by coronavirus fears.
At the end of a dramatic week in markets, the yield premium demanded by investors to hold German 30-year debt over its five-year counterpart has closed at its narrowest since 2008. Back then, the country was in its worst recession since reunification, suffering four straight quarters of contraction.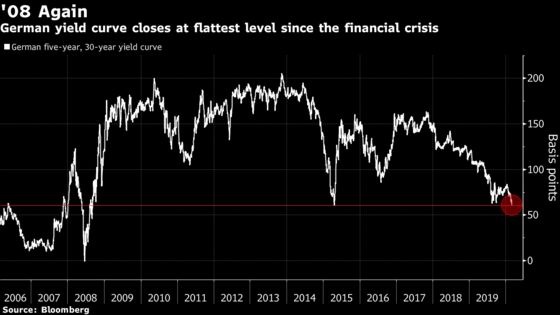 The yield curve is a closely-watched barometer for the currency area's biggest economy. When the spread narrows -- leaving investors demanding lower returns for the extra years of risk -- it's seen as a warning of a darker outlook. German yields of all durations also fell back below 0% this week, a sign that some investors are willing to pay to hold its debt.
"We are witnessing the ultimate hunt for duration, which has further to run," said Christoph Rieger, head of fixed-rate strategy at Commerzbank AG in Frankfurt in emailed comments. "The sharp flattening underscores that various market participants want Bund duration as hedge against their risk portfolios they cannot liquidate."
German 30-year yields fell nine basis points to -0.15%, taking the premium over five-year debt to just above 60 basis points, the lowest since 2008.
For some, the coronavirus could be the trigger that sends Europe into a recession. The impact of the illness on the region's supply chains from China is yet to become clear, although there was better-than-expected economic data from Germany on Friday. Bundesbank President Jens Weidmann said growth will almost certainly take a hit.
Elsewhere in Europe, Switzerland canceled large events including the Geneva car show. Italy is struggling with an outbreak in its Lombardy region. Inflation expectations for the euro area are also dwindling. The five-year forward measure fell to 1.12%, around a record closing low last set in October, suggesting that investors are losing faith that the European Central Bank will ever reach its target for close to, but below 2%.
ECB President Christine Lagarde said this week that it was not yet time for a policy response. But money market pricing moved to expect such a move by June. Should it occur, any move to to boost asset purchases would be likely to further flatten yield curves across Europe.