German Virus Aid May Build a Lender to Rival Deutsche Bank
Germany's pledge to help companies hit by the coronavirus could create a lender big enough to close in on Deutsche Bank AG.
State-owned development bank KfW will lend as much as 550 billion euros ($613 billion) to protect the economy, German Economy Minister Peter Altmaier said at a briefing in Berlin on Friday. That's enough to double its balance sheet and make it Germany's second-largest bank by assets.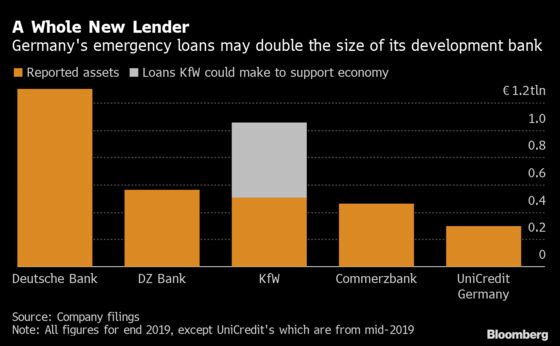 "This is a gigantic sum," said Klaus Fleischer, a professor specializing in finance at the Munich University of Applied Sciences. "KfW's role as a development bank meant it wasn't in direct competition with commercial banks, but that could now change. The key will be to see whether they're essentially just guaranteeing the loans or taking a more active role."
The goal is to make sure firms in Europe's biggest economy have sufficient liquidity to help them get through the crisis unleashed by the outbreak, the finance and economy ministries said in a joint statement.