Greensill Woes Deepen as Germany Shutters Bank Unit
(Bloomberg) -- Germany's financial watchdog shuttered Greensill Bank AG and asked law enforcement officials to investigate accounting irregularities at the lender, compounding the woes of its parent company as it seeks to stave off a collapse that it says could prompt corporate defaults and job losses.
Regulator BaFin on Wednesday said it closed the Bremen-based lender for business after finding irregularities in how Greensill Bank booked assets tied to a key client of Greensill Capital, British industrialist Sanjeev Gupta. A spokesman for the prosecutors confirmed that the regulator filed a criminal complaint, without elaborating.
"During a special forensic audit, BaFin found that Greensill Bank AG was unable to provide evidence of the existence of receivables in its balance sheet that it had purchased from the GFG Alliance Group," BaFin said in a statement. Gupta's GFG invests in and revamps moribund steel and power plants and has been an early backer and client of Greensill's firm.
Lex Greensill has seen his supply chain finance empire rapidly unravel this week as investors cut ties with him over concerns about the creditworthiness of his borrowers and a key insurer backed out of covering Greensill-backed companies. Bond and Credit Company, a unit of Japanese insurer Tokio Marine Holding, decided not to renew insurance policies covering $4.6 billion in corporate loans backed by the financier's firm. The policies were due to lapse on March 1, prompting Greensill's supply-chain firm to take the insurer to court in Australia, warning that losing coverage for its 40 or so clients could spark defaults and put 50,000 jobs at risk.
But late on Monday, a judge in Sydney struck down Greensill's injunction, leaving the firm fighting for its survival. Greensill Capital is planning to go ahead with an insolvency filing as it pursues a sale of the company, according to people familiar with the matter. It's in talks with the combination of Athene Holding Ltd. and Apollo Global Management Inc. to sell its operating business, the people said.
Greensill said in a statement late Wednesday that it had received "extensive advice," from firms Noerr in Germany and Simmons & Simmons in the U.K., "which informed the way in which the assets were classified." The company also said that it immediately complied after BaFin advised it late last year and early this year that it didn't agree with its accounting.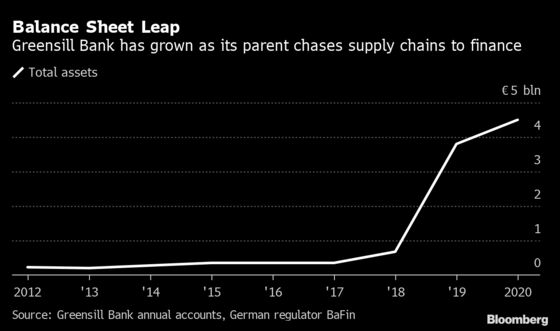 "Greensill Bank has at all times been transparent with its regulators and auditors about its approach to classifying assets and the methodologies for determining such classifications," a spokesman for the company said by email. He added that BaFin's announcement didn't mention any criminal charges.
Supply chain finance is a method of speeding up payments between companies. While it is a service widely offered by banks and other intermediaries, it can be misused to hide debt.
One of the most serious findings of BaFin's probe was that the bank booked claims for transactions that hadn't yet occurred but which were accounted for as if they had, Bloomberg reported earlier Wednesday, citing people familiar with the matter. The questionable claims were related to companies associated with Gupta.
Separately, the Bank of England asked Wyelands Bank, which is part of GFG Alliance, to repay its depositors, according to an emailed statement.
BaFin increased its scrutiny of Bremen-based Greensill Bank, which provides funding to its parent and assumes some of its credit risk, since the middle of last year over its out-sized exposure to Gupta. Bloomberg reported earlier that the regulator was close to freezing payments in and out of the bank and had taken it under tight oversight to limit damage for depositors.
Greensill's effort to disrupt a niche part of global finance was derailed when credit insurance backing some of his firm's loans lapsed, triggering uncertainty about their value and forcing Credit Suisse Group AG to freeze funds that bought the debt. The funds, along with Greensill Bank, were key buyers of the supply chain finance securities Greensill Capital issued.
BaFin's move on Greensill Bank comes after the regulator was the target of heavy criticism last year over its handling of the Wirecard AG scandal, where the watchdog was seen as slow to respond to allegations of wrongdoing. That electronic payments company, which collapsed in June, also relied on a German banking unit to fuel its growth, and had claimed assets on its balance sheet that didn't exist.