German Investor Confidence Improves in Rare Signal of Rebound
(Bloomberg) -- Investor confidence in German's growth outlook improved at the start of the year amid hopes that growth will stabilize after a turbulent 2018.
A gauge measuring expectations for the next six months rose to minus 15.0 in January -- its third consecutive increase -- beating expectations for a drop to minus 18.5. While the negative reading means pessimists still outnumber optimists among survey participants, prospects of an industrial rebound and proceeding negotiations toward a trade deal between the U.S. and China support expectations for a pickup in momentum.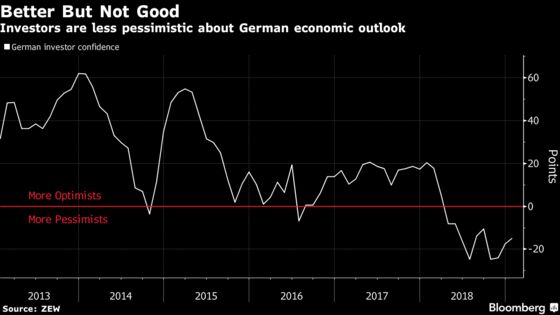 ZEW President Achim Wambach said investor expectations improved partly because "potentially negative factors" such as the U.K.'s rejection of the Brexit deal and relatively weak growth in China were already anticipated last year.
Some 17.4 percent of respondents said that the outlook for the German economy improved, compared with 32.4 percent who saw a deterioration
More respondents see stock indexes rising than falling
Investors were most pessimistic about the car industry, banks and steel companies
ECB President Mario Draghi will discuss the outlook for the euro area after the Governing Council's Thursday meeting. The latest Bloomberg survey shows that the window of opportunity for policy makers to lift interest rates is closing fast as the 19-nation economy weakens.
The German economy will lean on support from government and consumer spending in the month ahead after growth slowed to its weakest in five years in 2018 and export prospects deteriorated.