German Fintech Investments Top 1 Billion Euros for First Time
(Bloomberg) -- Investments in German Fintech companies reached a record last year, topping 1 billion euros ($1.1 billion) for the first time and providing the firms with more ammunition to compete with traditional banks.
The total invested reached 1.13 billion euros in 2018 after a record 353 million euros in the fourth quarter, according to calculations by Dusseldorf-based Barkow Consulting GmbH. Year-on-year growth of 55 percent was the fastest pace since 2015, even though the number of deals declined by 10 percent compared with 2017.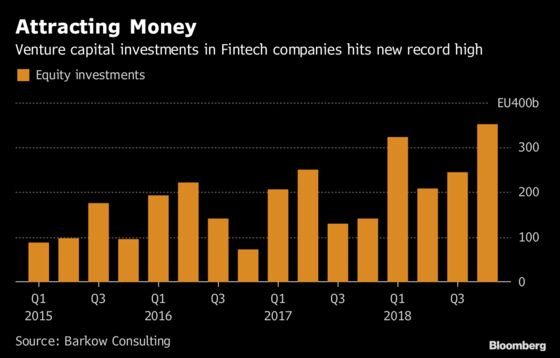 The figures point to the continued popularity of fintechs as an investment target, even as consumer spending and payments volume growth are set to slow. Piper Jaffray recently reduced its 2019 estimates across all fintech companies "to account for a cloudier macro cyclical outlook."
The amount of funding last year was skewed to larger deals, with the top 10 in Germany accounting for more than half of all investments, Barkow said. Berlin-based N26 GmbH's latest financing round of about 130 million euros was worth 12 percent of total money raised. In August, Deposit Solutions GmbH obtained $100 million from investors.