German Exports Unexpectedly Drop; Trade Gap Widest Since June
(Bloomberg) -- German exports unexpectedly declined in September, a weak end to a quarter that could see the economy stagnate for the first time in more than three years.
Exports fell 0.8 percent from August, missing forecasts for a 0.4 percent jump. Imports slipped 0.4 percent, and the trade surplus widened to 18.4 billion euros, the most since June, the statistics office said on Thursday.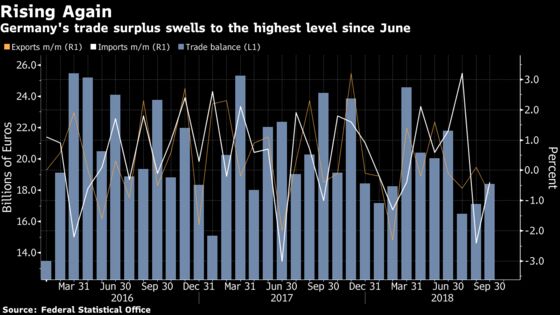 The drop in exports is a downbeat note for the economy after positive data earlier this week showing a pickup in German factory orders and industrial output in September.
The Bundesbank says the third-quarter slowdown was due to temporary difficulties in the auto industry and expects a rebound, but an escalation of trade tensions or a more pronounced global slowdown could undermine that.
President Donald Trump has repeatedly criticized Germany for its trade surpluses, and any move to slap levies on EU cars and auto parts as threatened would hit Germany particularly hard. The EU and the U.S. are working on a new accord to avoid tariffs.
Current-account balance, another point of criticism by the U.S., climbed to 21.1 billion euros, also the highest since June.
For more details see this table