German Debt Sales Rise as Merkel Refinances 'Bad Bank' Fund
(Bloomberg) -- Germany's federal government plans to increase gross borrowing by around 15 percent to 199 billion euros ($226 billion) next year to accommodate refinancing of the nation's "bad bank" fund that was set up during the height of the financial crisis.
The government will sell 156 billion euros in bonds and 43 billion euros in short-term bills, according to the Federal Finance Agency's provisional calendar published on Tuesday. The total volume is inflated by the sale of 20 billion euros in bonds to refinance the FMS financial market stability fund, set up to backstop troubled lenders.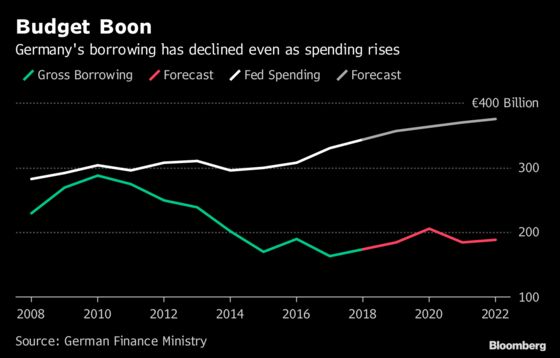 "This seems like quite a large rise in issuance but it is almost all accounted for by the inclusion of the partial refinancing" of the bank fund, said Jason Simpson, a rates strategist at Societe Generale. "The big increase is at the front end of the curve."
The Finance Agency has no plans to issue ultra-long debt, such as 50-year bonds, or so-called "Green Bonds," designed to support climate and environmental projects, Managing Director Tammo Diemer said on a conference call.
The increased borrowing will help finance the biggest federal budget on record, with spending of about 356 billion euros earmarked for 2019 -- or 10 percent more than this year -- as Chancellor Angela Merkel's Christian Democrat-led coalition boosts outlays on digital infrastructure, families and defense.
Finance Minister Olaf Scholz, a Social Democrat, is sticking to his predecessor Wolfgang Schaeuble's avoidance of net new borrowing, counting on surging tax receipts to finance spending and reduce public debt. Merkel's government has run a balanced budget every year since 2014.
Germany will probably comply with the single currency's reference value for accumulated debt this year, pushing down the sum of what it owes to about 60 percent of economic output. By comparison, Italy has a debt-gross domestic product ratio of about 131 percent.
The relative fiscal health of the German budget cuts the cost of its sovereign bonds. The nation pays an average 1.5 percent interest on its federal debt portfolio compared with 2.9 percent paid by Italy, according to a November European Commission report.
The competitiveness of German bonds is supporting the government's increased readiness to sell debt of a longer maturity. The 2019 program foresees the sale of 14 billion euros in 30-year bonds, including a new issue in August, and as much as 10 billion euros in inflation-linked bonds. Including so-called "linkers," total issuance volume next year will be as much as 209 billion euros, the agency said.