German Borrowing to Stay Close to Record to Fund Pandemic Aid
(Bloomberg) -- Germany's federal government plans to sell the second-highest amount of debt on record next year, as aggressive spending to offset the impact of the coronavirus pandemic continues.
Debt issuance will shrink to about 410 billion euros ($464 billion) in 2022, compared with a record of around 480 billion euros this year, according to the German finance agency's issuance plan published Thursday.
The borrowing includes inflation-linked bonds worth as much as 8 billion euros, and Green bonds of 12.5 billion euros, a similar volume to this year, the agency said by email.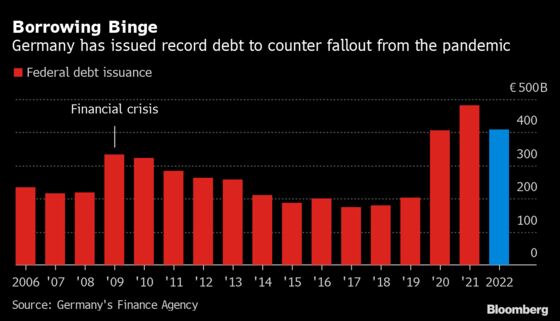 "The issuance planning for 2022 is geared to the financing needs of the federal government and its special funds, which continue to be increased overall due to the ongoing pandemic situation," the agency said.
Germany has spent tens of billions of euros on propping up the economy during the pandemic with cash or loans for companies, as well as financial support for millions of workers on furlough. Annual borrowing since 2020 is roughly double the rate of recent years.
The previous government under Angela Merkel suspended a constitutional debt limit in 2020, and her cabinet in June approved plans for net borrowing next year of just under 100 billion euros.
The new chancellor Olaf Scholz -- finance minister in Merkel's ruling coalition -- has pledged to restore the so-called "debt brake" in 2023. The rules cap net borrowing at 0.35% of gross domestic product but parliament has the power to suspend it in times of national emergency.
Scholz's coalition of his Social Democrats, the Greens and the pro-business Free Democrats has promised to invest billions of euros to make Germany's economy more climate friendly and to update technology infrastructure, while broadly sticking to the constitutional borrowing limit.
New Finance Minister Christian Lindner reaffirmed that commitment in a speech to the lower house of parliament on Thursday.
The Bundestag is holding a first debate on Lindner's supplementary budget, which channels 60 billion euros earmarked in this year's spending plan into an investment fund to help finance the administration's climate goals in coming years.