Global Bonds Surge Amid Equity Rout, Tempered Tightening Outlook
(Bloomberg) -- Treasuries surged and sovereign debt rallied globally as equities extended their slide and expectations for central bank tightening in Europe and America were tempered.
The yield on 10-year Treasury notes slid Friday to its lowest level in more than three weeks, while rates on similar-maturity German bunds fell to a level unseen in almost two months as worse-than-anticipated earnings from U.S. technology giants Amazon.com Inc. and Alphabet Inc. helped spur a sell-off in riskier assets. That combined with a spate of weak data in the euro area that prompted European Central Bank President Mario Draghi to list a "bunch" of downside risks to the central bank's normalization plan on Thursday.
Traders have pushed back their pricing of the ECB's first interest-rate hike to 2020 and trimmed expectations on the pace of Federal Reserve tightening, with less than two quarter-point increases priced in for 2019. Stronger-than-expected U.S. economic growth numbers for the third quarter provided one upbeat note Friday, and prompted some brief paring of Treasury gains, but the market tone remained risk-averse as U.S. stock indexes traded in the red.
"You have bear markets everywhere now in equities," said Andrew Brenner, the head of international fixed-income at Natalliance Securities in New York. There's a risk that "the Fed could slow its hiking if we continue to have this kind of volatility in markets. And you have a lot of slowdowns, even though for now the U.S. has been an island. But that can't be sustained for a long time."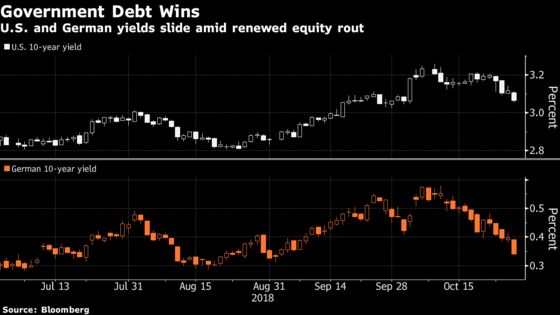 Earnings disappointments from U.S. growth engines Amazon and Alphabet helped bring a quick end to the rebound in shares that had been taking place, with the S&P 500 Index handing back most of the 1.9 percent advance it made in the wake of six-straight daily declines.
Yields on Treasuries with 10 years to maturity fell as much as 6 basis points to 3.05 percent, the lowest since Oct. 3. Haven demand this week has dragged the rate well below the seven-year high of 3.26 percent reached earlier this month. While traders continue to expect a quarter-point hike from the Fed in December, expectations within the eurodollar futures market for how much tightening policy makers might do next year have slipped to around 38 basis points from a high of around 60 earlier this month.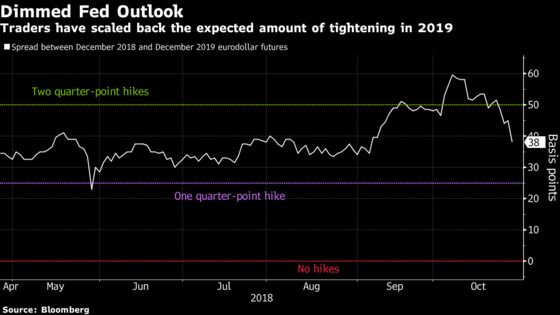 The yield on 10-year German securities dropped as much as 6 basis points to 0.34 percent, the lowest level since Sept. 5, before paring its move slightly. Money markets now see a 10-basis-point rate move by the ECB in January 2020, having previously priced in a December 2019 hike before Thursday's meeting.
"Markets are reconsidering the pace of monetary policy normalization," said Pooja Kumra, European rates strategist at Toronto Dominion Bank."