Gender Gap Hits Record as U.S. Consumer Comfort Index Slides
(Bloomberg) -- The Bloomberg Consumer Comfort Index fell for the first time in five weeks as sentiment slid among U.S. women, widening the gap with men to a record, according to data released Thursday.
Highlights of Consumer Comfort (Week Ended Oct. 7)
Weekly index cooled to 59.5 from 17-year high of 61.6; 2.1-point drop is biggest decline since May 2014
Measure tracking views of the economy fell to 64.4 from 65.6; buying climate decreased to 51.7 from 53.6
Personal finances index fell to 62.6 from 65.6
The gap in sentiment between men and women widened to 19.4 points, the most in 28 years of data, as views of personal finances fell by 4.8 points among women and 1.1 point among men, according to the report.
Langer Research Associates, which produces the report, has said the gap reflects the facts that women are more likely than men to be Democrats and less likely to have incomes exceeding $100,000; Republican affiliation and higher earnings have correlated with higher comfort scores. Last week, Republicans' sentiment exceeded that of Democrats by 34.8 points, the second-biggest gap since 2005, just before November's midterm elections that will decide control of Congress.
Even with the latest decline, the index remains elevated by historical standards and above the 12-month average of 55.7, amid the lowest unemployment rate since 1969.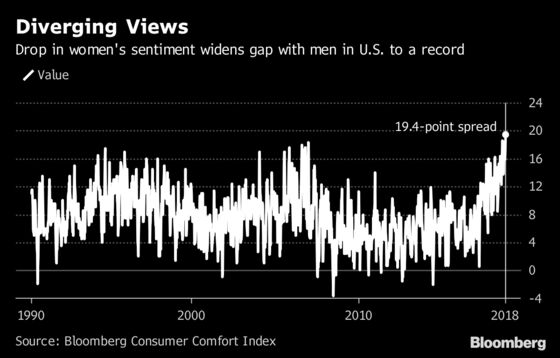 Comfort among Democrats fell to 46 from 49.8; dipped among Republicans to 80.8 from 82
Sentiment among Americans who are separated, widowed or divorced increased to a 17-year high; fell among respondents who are married or single
Confidence declined last week in all four U.S. regions