One Day After John Flannery's Ouster, GE's Silence Is Deafening
(Bloomberg) -- When a $100 billion company in crisis fires a CEO who's been on the job for just over a year, investors are sure to have lots of questions. General Electric Co. isn't giving many answers.
The crippled industrial giant dropped a shocking press release just after 7 a.m. Monday in Boston announcing that Chief Executive Officer John Flannery was being replaced by board member Larry Culp. And oh, profit this year will miss forecasts. After that, nothing. No press conference or briefing to give the new boss a chance to lay out his vision to analysts. No television interviews.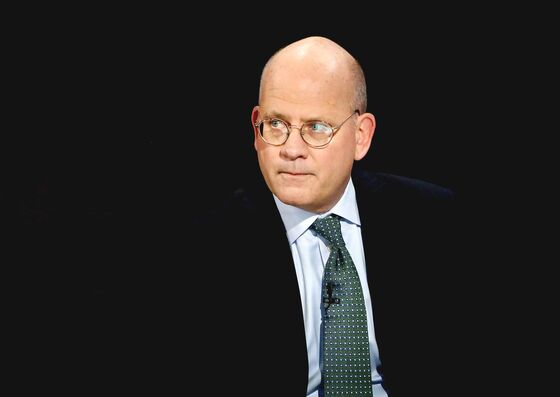 "Still more unknowns than knowns with respect to outlook," Nicole Deblase, an analyst at Deutsche Bank AG, said in a Monday note to clients. "After speaking with the company, we do not come away with much beyond what we read in this morning's release."
This isn't how crisis communications are usually handled, especially at GE, which long has had a well-regarded communications and investor-relations team. In the past the company has plotted its succession planning carefully, over the course of months or years.
Longtime CEO Jack Welch began talking publicly about his retirement by the early 1990s, started the formal succession process in 1994 and picked Jeffrey Immelt as the next chief in 2000. Even after the announcement, Welch stayed in his role for almost a year.
After much of that process played out publicly, GE tried to avoid media scrutiny the next time. Immelt studiously avoided tipping his hand as he neared the end of his tenure, but acknowledged after stepping down last year that in 2013 he began planning the next steps.
In the months before GE announced Flannery as Immelt's successor, GE made many of the presumed candidates available publicly, through media interviews and appearances at analyst conferences.
Culp, on the other hand, doesn't have a high profile outside of those who paid attention to the rise of Danaher Corp., which he led until 2015. In his 14-year tenure as CEO, the company was known for beating the broader stock market while resolutely declining media interactions.
"It's no surprise at all that the board has clammed up," Julian Birkinshaw, a professor of strategy at the London Business School, said of GE's approach. "As a board, the less you say, the better is the general rule."
To be fair, GE's stock surged 7.1 percent Monday and was little changed Tuesday even after Moody's put GE on review Tuesday for a possible downgrade, so maybe investors have all the information they need. And although analysts don't have much to go on, two have already upgraded the stock, based largely on their faith in Culp.
Steve Tusa, a JPMorgan Chase & Co. analyst and longtime GE bear, said he respects Culp and believes GE needs to reset. Still, he said in a note to investors, "the timing and format of this announcement is a negative surprise."
Now the question is how long GE and Culp will remain tight-lipped. The company is scheduled to report third-quarter earnings on Oct. 25, in a little over three weeks.