GE's Preferred Stock Looms Large for Vanguard and Pimco
(Bloomberg Opinion) -- What would you expect to see in short-term bond funds from Pacific Investment Management Co. and Vanguard Group Inc.? I doubt a security that could last in perpetuity is the first thing that comes to mind.
Yet that's exactly what appears to be lurking in the Pimco Short-Term Fund and Vanguard Short-Term Investment-Grade Fund. The portfolios are two of the four largest public holders of General Electric Co.'s sole liquid perpetual preferred stock, which has been hammered in recent days along with just about everything else tied to the company. Trading volume in the securities reached a record high on Friday as their price tumbled below 85 cents on the dollar from about 94 cents at the end of October.
The argument that these perpetual securities belong in short-term bond funds stems from the fact that they're callable by GE in January 2021, making them effectively two-year obligations. The problem with that rationale — which the market has quickly caught on to — is that it's probably no longer economical for the company to execute that call option. After all, Chief Executive Officer Larry Culp this week expressed a "sense of urgency" in cutting debt. Taking out a comparatively cheap source of capital would seem to make little sense when deleveraging.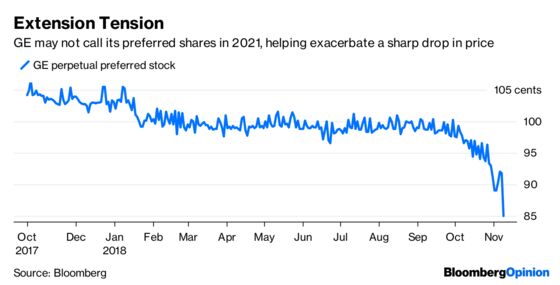 If GE doesn't call the securities, they'll convert to floating-rate and pay 333 basis points above the U.S. London Interbank Offered Rate. That would equate to an interest rate similar to the current yield on the company's long-term bonds. Of course, if Federal Reserve officials follow through on their expectations of raising their benchmark five more times by the end of 2020, the floating rate could be even higher. 
While that's a lofty amount of interest, a non-called perpetual security teetering on the brink of junk doesn't exactly align with the mandates of short-term, investment-grade bond funds. It was the third-largest holding in the Pimco fund, just behind a Japanese bill and debt from Dell Technologies Inc. due in June 2019. The Vanguard fund's top 10 holdings are nine U.S. Treasury securities and the GE preferred stock.
As Bloomberg News's Natalya Doris reported, the perpetual security now yields more than some distressed credits even though it's holding onto investment grades from both Moody's Investors Service and S&P Global Ratings. It's anyone's guess how long that will last, given their place in GE's capital structure. Preferred shares are just above common stock and contain characteristics of both equity and debt.
The dividends are effectively the security's interest payments. But GE has the right to stop those at any point as long as it first shuts off payouts to common stockholders. Doing so wouldn't constitute a default. On top of that, the security also has a feature that would allow the company to restart the dividends later without being responsible for making up for those that it skipped. Taken all together, it seems highly unlikely that these preferred shares will be called in early 2021, barring a spectacular turn of events for GE. 
The repricing could still have a ways to go. While the U.S. bond markets were closed on Monday for the Veterans Day holiday, GE's shares tumbled as much as 10 percent to below $8. It seems likely that the company's preferred stock would take a similar path, possibly going the way of its euro notes, which are starting to price in the risk that GE falls into speculative grade. As for Pimco and Vanguard, it's possible they've already gotten ahead of this move. Several large blocks changed hands on Friday, part of an unprecedented $278 million in trading volume. 
GE has big issues to address, and as my Bloomberg Opinion colleague Brooke Sutherland wrote on Monday, there are no easy solutions for its new leader. Calling its perpetual security would do nothing to fix what ails the company. That likely means more pain ahead as short-term funds and others head for the exits. 
This column does not necessarily reflect the opinion of the editorial board or Bloomberg LP and its owners.
Brian Chappatta is a Bloomberg Opinion columnist covering debt markets. He previously covered bonds for Bloomberg News. He is also a CFA charterholder.