GE's Debt Problem Is Only the Start for Its New CEO
(Bloomberg Opinion) -- GE's latest deal underscores the challenge facing its new CEO.
The embattled industrial conglomerate said on Tuesday that it was selling its Intelligent Platforms automation business to Emerson Electric Co. The news comes just one day after GE  announced the ouster of CEO and chairman John Flannery and tapped former Danaher Corp. chief Larry Culp to take his place. Terms of the deal with Emerson weren't disclosed, but the GE business generated $210 million in 2017 revenue. Applying a multiple similar to what Emerson paid for pneumatics supplier Aventics earlier this year suggests a purchase price in the range of $300 million.
This deal is interesting for a number of reasons, but before I get to those, I would like to note that Emerson's press release for this relatively small deal was only about 100 words shorter than the one GE used Monday to announce a major management change and a goodwill impairment charge that may be as large as $23 billion. Unlike GE, Emerson also included a slide-deck with additional details. Quite a contrast, and not a great look for GE as it tries to prove to investors that it can be more accountable and transparent.
On a deeper level, GE's decision to sell the Intelligent Platforms automation arm underscores the risk of the company chopping off its legs to save its arms. The automation business is one of the healthier parts of GE's crippled power unit. It recently won praise from research firm Frost & Sullivan for its field-agent technology and outcome-optimizing controllers, which allow customers to securely collect and analyze data from physical assets in rugged areas to improve their performance. According to that report, early adopters of GE's industrial internet control system saw a 40 percent reduction in maintenance needs.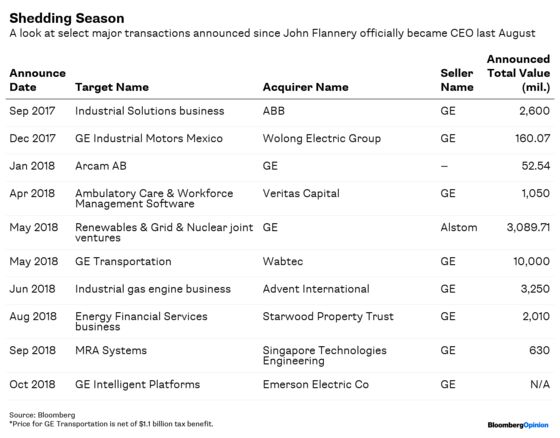 Putting Intelligent Platforms in the hands of Emerson will best position the business "to pursue its growth strategy," Russell Stokes, GE's head of Power, said in the statement announcing the deal. I don't doubt that. GE Power doesn't exactly have cash to burn these days considering the aforementioned goodwill impairment charge. These are the kinds of hard decisions that have to be made as GE tries to stabilize the business. But there is a cost.
While the illusion that digital offerings are going to bring in a bounty of new revenue for GE has been shattered, the kind of Industrial Internet of Things capability embedded in the Intelligent Platforms business represents the future of servicing and managing equipment and is crucial to keeping GE competitive. Of course, it's a great deal for Emerson: GE Intelligent Platforms plugs holes in its discrete manufacturing offerings and represents another big step forward in CEO Dave Farr's effort to build a Rockwell Automation Inc. look-a-like after getting rebuffed by the company last year.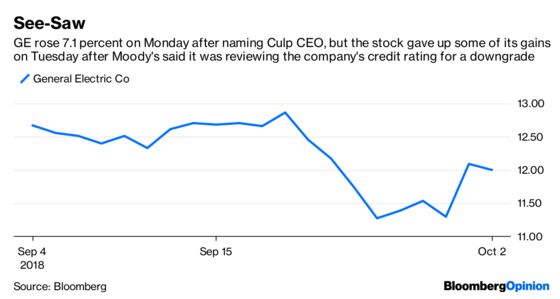 The priorities for GE's new CEO are to clean out the rot in the power business and pay down debt. Moody's Investors Service on Tuesday put GE's A2 credit rating and P-1 commercial-paper rating on review for downgrade, something it really should have done months ago. Assuming Culp can pull off these more pressing fixes — a big if — investors will have to start thinking about what kind of company will be left over after some of GE's best assets are offloaded in an effort to unshackle them from the mess at the parent company.
Aviation will likely be fine, but the optimistic outlook for the power business is that demand for gas turbines hasn't totally evaporated and that GE can improve its profit margins through price discipline on services for its large installed base. That is harder to do if your cash-raising activities and cost cuts make your offerings less compelling.
GE's unraveling has been all the more devastating because it's happening at a time when its industrial peers are performing quite well. Those competitors are using their buoyed earnings power to do deals, and GE is on the wrong side of them.
This column does not necessarily reflect the opinion of the editorial board or Bloomberg LP and its owners.
Brooke Sutherland is a Bloomberg Opinion columnist covering deals and industrial companies. She previously wrote an M&A column for Bloomberg News.