GE's 'Beat-and-Raise Story' Leads Longtime Skeptic to Upgrade
(Bloomberg) -- General Electric Co. received faint praise from Wall Street on Friday as a long-time bearish analyst upgraded his rating on the stock, saying the company has successfully repositioned itself into a "high-level beat and raise story."
Gordon Haskett analyst John Inch, who has had a sell-equivalent rating on GE since October 2018, raised it to hold, and also lifted his price target to $11 from $7.
"The financial targets that GE recently laid out for 2020 appear to be readily achievable," Inch wrote in a note to clients. He added that GE's businesses, while not particularly inspiring as a whole, appear to pose less of a risk today than before. The worst for the struggling power segment appears to be over, at least in the coming 1-2 years, while the healthcare unit's performance could improve from current anemic levels, Inch added.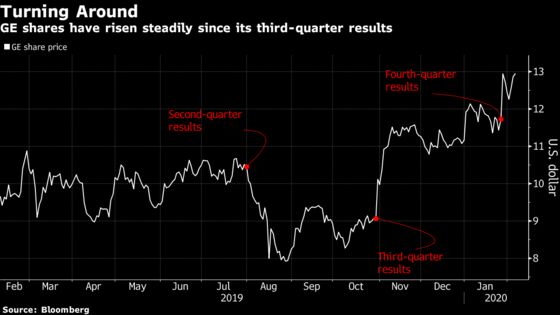 GE Capital also seemed to pose less of a future risk as the asset portfolio has shrunk and time has passed, and even though aviation still has some challenges, possible cash tailwinds related to Boeing's 737 Max should provide sufficient breathing room to hold reported free cash flow relatively intact over the next couple years, Inch wrote.
After a tumultuous few years since late 2017 when GE's financials started slowly unraveling, the company's recent results have inspired hope that its turnaround was steadily progressing. In the latest fourth-quarter results reported last month, GE said its industrial free cash flow, a closely watched indicator of earnings potential, may climb to as much as $4 billion this year from $2.32 billion in 2019.
Inch, however, does not believe all is rosy with GE yet, and still sees fundamentals that are fraught with risks, including outsized debt, aggressive accounting, weak earnings quality and a "significantly mediocre to moribund" portfolio mix outside of aviation. The analyst said there was no obvious reason why GE's share price should continue to meaningfully outperform from current levels, and expects it to ultimately settle closer to $10 to $11.
GE shares gained as much as 1.1% Friday, to touch the highest since October 2018. The stock has now risen 17% this year, whereas the S&P 500 Index has gained 3.1%.
The company has 12 analysts recommending buying the stock, 10 advising to hold, while 3 say sell, according to Bloomberg data.