GE Earnings Likely an `Afterthought' as New CEO Culp Grabs Focus
(Bloomberg) -- When General Electric Co. reports third-quarter results on Tuesday, earnings numbers are going to be the last thing on investors' minds.
The struggling industrial behemoth is already expected to lower its forecast for earnings and free cash flow for 2018, and also trim its dividend again. So the main focus will stay on how the new chief executive plans to turn around several troubled businesses, especially the struggling power unit, with investors eager to find out more about the strategic details.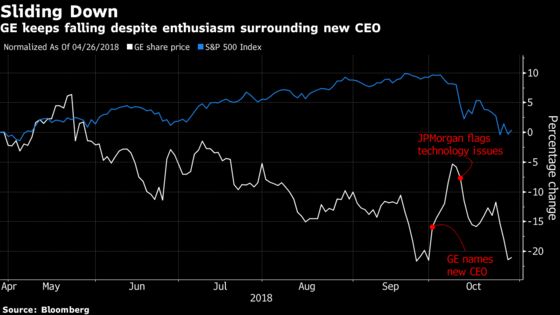 "With the appointment of Larry Culp as GE's newest Chairman & CEO, we expect that third-quarter operating results will be almost an afterthought," RBC Capital Markets analyst Deane Dray wrote in a note. "Everyone knows that there is much to be fixed at GE."
"The pivotal point on the earnings call will be when Mr. Culp discusses his operating strategy and how his plan and timing may differ from the initiatives of his predecessor John Flannery," Dray said.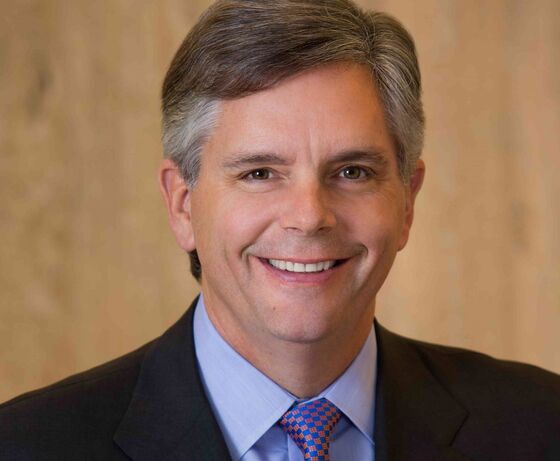 Analysts on average now expect 2018 earnings of 89 cents per share, according to Bloomberg data, significantly lower than the $1 to $1.07 range GE forecast in July. Since then, GE shares have dropped another 14 percent, giving back most of the gains that followed Culp's appointment. The broader market pulled back 5 percent over the same period.
The fading investor enthusiasm surrounding GE could be a reflection of the tough job ahead that faces Culp, who is expected to address the continued weakness in GE's power business, the company's high leverage and anemic free cash flow, as well as reset expectations for GE's dividend.
"We don't think management will provide hard guidance for fiscal 2019 at this stage, but we would expect a message of continued pressure in the new Power equipment market, but sound optimistic on recovery in smaller aero derivatives and power services," Wolfe Research analyst Nigel Coe wrote in a note.
GE shares were up as much as 3.8 percent on Monday, ahead of the results.
3Q adjusted EPS from continuing operations estimate 20c (range 16c-24c)
3Q revenue estimate $30.25 billion (range $29.11b-$31.77b)
FY adjusted EPS estimate 89c (range 78c-$1.00); GE saw $1.00-$1.07 (July 26)
FY adj. free cash flow estimate $2.49b
GE 8 buys, 13 holds, 3 sells; avg PT $15: Bloomberg data
Implied 1-day share move following earnings: 10.5%
Shares fell after 9 of prior 12 earnings announcements
Adjusted EPS beat or met estimates in 10 of past 12 quarters
Earnings Oct. 30 before market open