GE Credit Rating Cut by Moody's as Power Unit's Woes Deepen
(Bloomberg) -- General Electric Co.'s credit rating was cut by Moody's Investors Service, a day after the manufacturer said the outlook was deteriorating at its marquee power division.
Moody's lowered its long-term rating on GE two notches to Baa1, or three steps over junk, following a similar reduction four weeks ago by S&P Global Ratings. GE's cash flow is under pressure as its power-equipment unit struggles with falling demand for gas turbines and a drop in orders, Moody's said in a report Wednesday.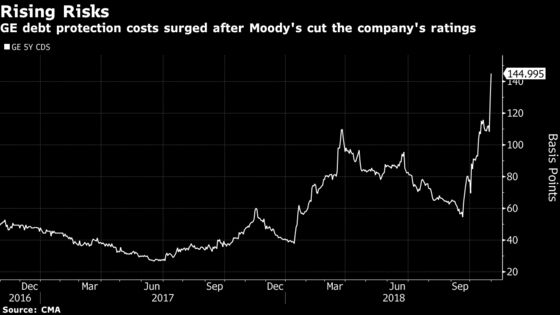 "The weaker-than-expected performance at Power is not only attributable to a considerable drop in market demand and ensuing heightened competition, but also to GE's misjudgment of financial prospects and operational missteps," Moody's said. "As a result, GE's free cash flow (after dividends) will likely be very weak in 2018, even with good performance at GE Aviation and GE Healthcare."
The ratings cut -- and the potential higher borrowing costs that come with it -- piles pressure on new Chief Executive Officer Larry Culp, who took over from John Flannery in a surprise appointment announced Oct. 1. Culp is also contending with an expanded federal probe into GE's accounting by both the U.S. Justice Department and the Securities and Exchange Commission.
Culp moved to shore up GE's balance sheet this week, slashing the quarterly dividend to a penny a share from 12 cents in a move that will save the company about $3.9 billion a year. GE, which lost its coveted AAA credit rating in 2009, said it would be able to weather the Moody's downgrade.
"The downgrade is manageable and we are prepared for it," the company said by email. "We remain committed to strengthening the balance sheet."
Risk premiums on GE's most actively traded debt, $11.4 billion of notes issued by GE Capital International Funding maturing in 2035, rose to 2.29 percentage points over comparable Treasuries in New York, according to Trace, the bond-price reporting system of the Financial Industry Regulatory Authority. That's the widest spread since they were issued two years ago.
The cost to protect GE's debt against default for five years jumped 20 basis points to 149 basis points, the highest level since at least 2016, according to data provider CMA.
The shares dropped 1.1 percent to $10.07 at 3:45 p.m., a day after plunging the most in nine years following GE's third-quarter earnings report.
Downgrades could force GE to consider changes in capital allocation, including planned dividend levels, according to a recent regulatory filing by the company. GE also said cuts could hurt its liquidity by requiring it to post additional collateral on various debt and derivative instruments.
The power unit's difficulties will "persist longer and with deeper impact than expected," Chief Financial Officer Jamie Miller said on a conference call Tuesday. As a result, GE will miss its full-year target for cash flow by a significant amount, she said.
The Boston-based company in September disclosed that its flagship turbine was facing an oxidation issue that forced a customer to temporarily shut down two U.S. power plants.