GE CEO's Payday Sends the Wrong Message
(Bloomberg Opinion) -- GE is sure rolling out the red carpet for Larry Culp.
The beleaguered industrial conglomerate disclosed some details late Thursday of its compensation agreement with Culp, the former Danaher Corp. executive who was tapped this week to replace John Flannery as GE's CEO and chairman. The four-year accord is clearly designed to align Culp's interests with those of shareholders: If, under his stewardship, GE's stock rises 150 percent and keeps in that range for 30 consecutive days between now and the fall of 2022, Culp could pocket a one-time equity award valued at more than $230 million. A 50 percent share boost under the same terms would reward Culp with nearly $50 million. He gets nothing for a smaller gain.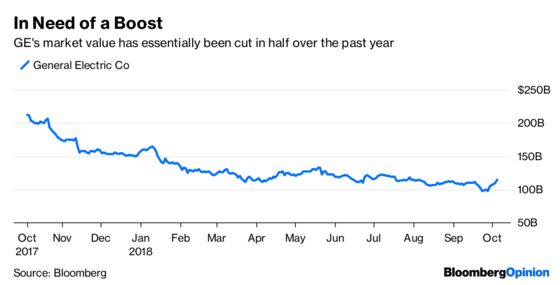 There are some pitfalls to stock-price driven compensation (Valeant, anyone?). GE has been criticized for performance metrics from the Jeff Immelt-era that encouraged share buybacks, a seemingly shareholder-friendly maneuver that soaked up billions of dollars the company would have been better off directing to its bloated balance sheet. But I can also understand the motivation after the $100 billion wipeout in GE's market value over the past year, so I'm not going to dwell on that too much. We don't yet know the performance metrics underlying the $15 million in additional annual equity awards that Culp will receive starting in 2019 or his $3.75 million targeted annual bonus. 
I would like instead to focus on the nuts and bolts of Culp's compensation: a $2.5 million annual base salary. That's a big number and compares to Flannery's $2 million salary upon his appointment as CEO. GE says Culp's base is higher because he's a seasoned executive with a proven track record. The latter is definitely true: Culp oversaw a five-fold increase in Danaher's revenue, which fueled a dramatic surge in market value. But Flannery is two years Culp's senior. It's hard not to read the pay gap as reverse-engineered punishment for Flannery's insider status, having worked his way up the ranks at GE rather than running another company beforehand (where he arguably would have had an easier time).
More importantly, that $2.5 million base salary is the highest for any CEO on the S&P 500 Industrial Index, according to data compiled by Bloomberg. It's more than the combined 2017 base salaries of Honeywell International Inc. CEO Darius Adamczyk and his predecessor Dave Cote, who stepped down as CEO in March of that year and served as executive chairman until this past April. Honeywell, of course, is now a bigger company than GE by market value. Emerson Electric Co.'s Dave Farr has held his post for 18 years and his 2017 base salary was $1.3 million.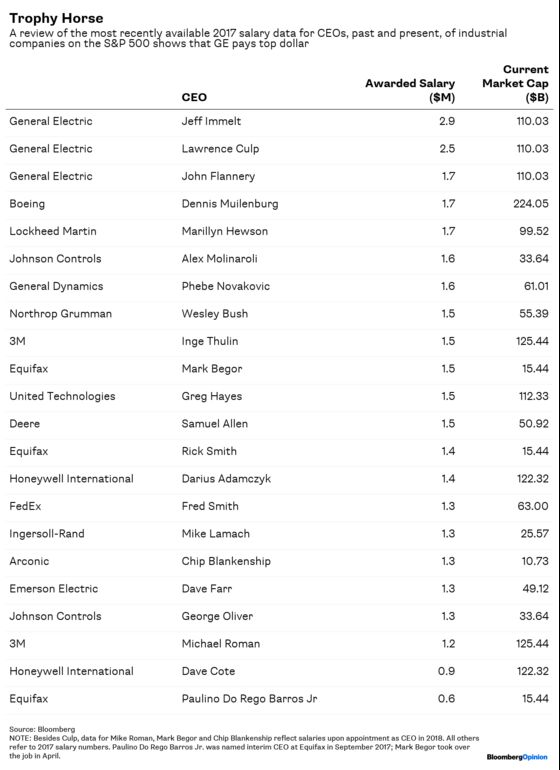 Looking at Culp's former company Danaher is also instructive. In his final years there, Culp had an annual base salary of $1.2 million, which is what his successor Thomas Joyce was paid in 2017. Culp has been out of the CEO rat race since stepping down from Danaher in 2014. He served as an adviser to the company until 2016 and was a lecturer at Harvard Business School, in addition to being named to the board of T. Rowe Price Group Inc. in 2015. More recently, he served as an adviser to private equity firm Bain Capital and joined GE's board in April.
Even with GE's depleted market value and shrinking portfolio, the company is clearly still a complex enterprise and overhauling it will be difficult. GE likely had to throw some money at Culp to convince him to risk his sterling reputation on such a risky turnaround. That still doesn't fully explain why Culp's base salary had to be so much larger than what his peers are receiving. 
It sends the wrong message, particularly for GE's rank and file. Many of the company's employees will lose their jobs in the cost cuts that Culp is likely to enact. Many of them are still seething at the more than $100 million Immelt was granted upon his retirement, a package which the board to date has made no effort to claw back. GE points out that 90 percent of Culp's compensation is tied to performance and thus at risk if he falls short, which is true. But the $2.5 million salary is the exception and isn't contingent on specific hurdles.
GE already missed an opportunity to improve governance and accountability by not naming an independent chairman. This decision on Culp's base pay looks like another missed chance. 
This column does not necessarily reflect the opinion of the editorial board or Bloomberg LP and its owners.
Brooke Sutherland is a Bloomberg Opinion columnist covering deals and industrial companies. She previously wrote an M&A column for Bloomberg News.