GE Bonds Keep Plunging, Pushing Through All-Time Lows
(Bloomberg) -- General Electric Co.'s bonds haven't yet found a bottom. Several of the firm's most active securities have widened more than 30 basis points since yesterday's close and are well over 100 basis points wider than where they traded a month ago.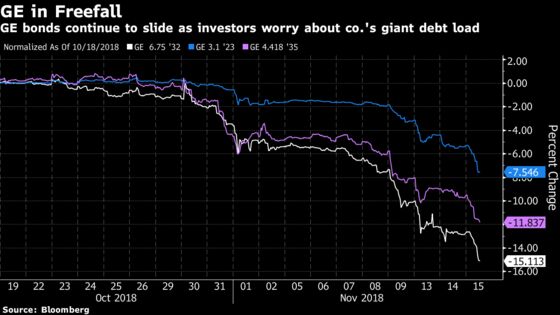 This move comes as investors fret about GE's giant debt load and wonder whether the company's weakness is feeding into the broader corporate credit market. Guggenheim Partners Chief Investment Officer Scott Minerd tweeted on Tuesday that the company's problems aren't isolated, and "the slide and collapse in investment grade credit has begun." Those concerns were echoed by Jason Shoup, head of global credit strategy at Legal & General Investment Management America.
Others see the struggles as isolated to the company. "Our view is that GE is small enough, and the story sufficiently idiosyncratic, to leave other large BBB capital structures relatively little affected," Bank of America Corp. strategists led by Hans Mikkelsen said in a Nov. 13 note.
GE notes maturing in 2034, issued out of the GE capital entity, rank just behind DowDuPont Inc.'s newly issued debt in total volume traded on Thursday in the investment-grade bond market. The bonds, which trade at 305 basis points above Treasuries, have widened 140 basis points since September.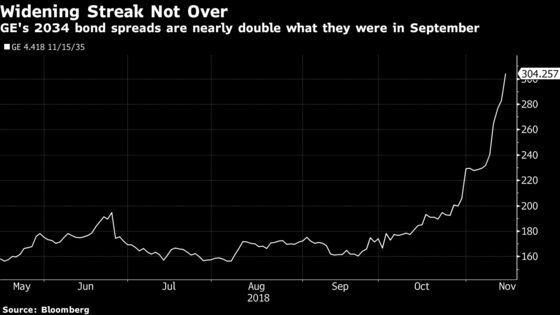 Investors may find comfort in the notion that companies are in a better position to deal with any downturn than they were in the past. Bank of America Corp. analysts said in a recent client note that "the credit quality of high-grade companies is the best it has been in decades, as companies and industries have been tested and forced to improve."
"The economy is still strong, trade wars will get settled and we do not think a recession is imminent," said John Sheehan, a portfolio manager at Osterweis Capital Management. "If that all holds true, we do not see a broad-based credit crisis."