GE Soars on `Favorable' Deal as Street Awaits Power Plan
(Bloomberg) -- General Electric Co.'s shares soared Monday, after the battered conglomerate struck a "favorable" deal with Danaher Corp. to sell its biopharma business for $21 billion in cash and assumption of certain pension liabilities.
Wall Street analysts covering GE said the deal should help alleviate much of the liquidity concerns around the company. Shares of the company jumped as much as 16 percent to $11.75 in New York, a level last touched on Oct. 25. Danaher gained 9.4 percent to touch an all-time high of $124.10.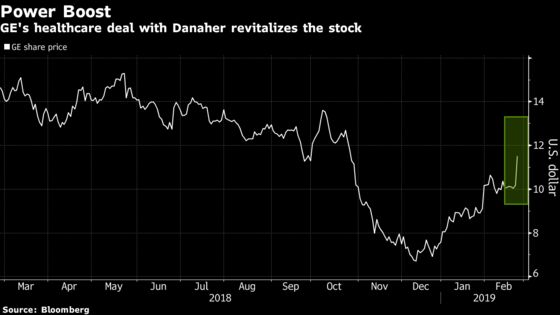 "This is a favorable transaction as it quickly solves the deleveraging challenges for the company, gives them more flexibility in regards to other transactions that they might consider, and pending clarity on tax leakage, you get around $60 billion value for the healthcare business," Gabelli & Co analyst Justin Bergner (buy) said in a phone interview

"The top priority continues to be, from an operational standpoint, turning around the power business," Bergner added
Noted that while the biopharma business was the "crown jewel" of GE healthcare unit, it did not "necessarily had synergistic linkages" to the rest of the GE healthcare business

"Biopharma price was about two times what we would have estimated its value to be," William Blair analyst Nicholas Heymann (outperform) said, adding that "GE should still be able to raise over $20 billion for sale of just under 50% of GE Healthcare

"With the announcement of the biopharma sale to Danaher, Culp has turned the page on the next chapter of GE's transformation to how he plans to revitalize GE Power," Heymann added

Credit Suisse analyst John Walsh (neutral) says the sale is a positive and in line with strategy

"On 4Q, GE highlighted $30 billion of expected cash proceeds from Healthcare, BHGE, and Wabtec, and today's announcement is a significant down payment," Walsh wrote in a note

Edward Jones' Jeff Windau (hold) says "with the execution of this deal, it appears that the IPO of GE's health care business, at least in the near term, will not be pursued"

"Other pieces of the health care business may be divested instead," Windau added

In a note to clients, Evercore ISI's Ross Muken said the deal was likely to be a "multi-year home run" for Danaher, which he rates outperform

"In terms of price paid the headline of 17x appears very favorable on the surface given the unique nature of the business," Muken added

Janney's Paul Knight says DHR will now "grow organically around 6 percent instead of 4 percent and we expect earnings upside as DHR manages the business"
NOTE: Feb. 22, GE Could Get $22 Billion From Asset Sales, Cash Flow: Moody's