GameStop Whipsawed by 150% Swing as Day Traders, Shorts Feud
(Bloomberg) -- GameStop Corp.'s wild ride since the start of the year may have crested on Monday when the stock erased an intraday surge of as much as 145%.
The video-game retailer that has taken Reddit and Wall Street by storm briefly turned negative as it seemed the stock's unrelenting surge could buckle. The stock, which has been a battleground for short sellers and retail traders, triggered at least nine trading halts for volatility on Monday.
Shares of Grapevine, Texas-based GameStop rose 18% to $76.79 Monday, marking a second straight record close.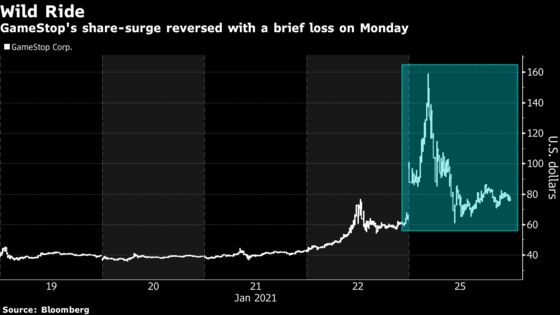 GameStop's options trading surged to more than three times the 20-day average again on Monday as put contracts outpaced call contracts for a second day. The most active contracts were the $115 calls that are set to expire on Friday, which traded at an average price of $22.48. Forty four percent of those changed hands on the bid side while 41% traded on the offer side, according to data tracked by TradeAlert.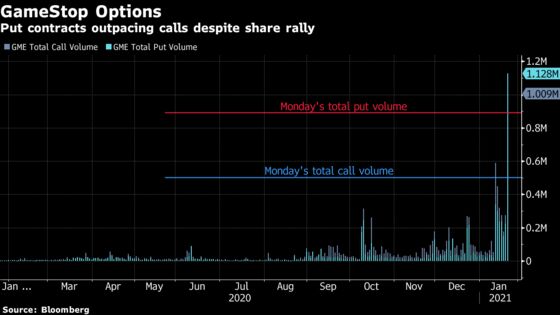 The next two most active contracts on Monday were the Jan. 29th $20 and $40 puts, where volume reached about 33,500 and 26,200, respectively.
The trading session was made more volatile with 175 million shares changing hands -- more than nine times the normal volume -- pushing GameStop's market value to $5.4 billion by the Monday close.
The day's session marked the third time more than 100 million shares were traded since GameStop went public in 2002. All three have happened in the past two weeks, since Chewy Inc. co-founder Ryan Cohen gained a seat on the company's board.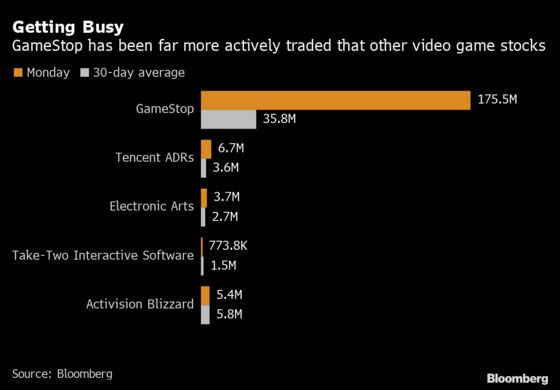 GameStop's trading on Monday and over the past 30 sessions has topped the activity seen across firms that make video and mobile games. The stock's surge, despite Monday's choppy session, has marked the most volatile stretch in the company's history by a range of measures.
"We are seeing a short squeeze on older shorts who have incurred massive mark-to-market losses on their positions, but are seeing new shorts coming in and using any stock borrows that become available to initiate new short positions in hopes of an eventual pullback from this stratospheric stock price move," Ihor Dusaniwsky, S3 Partners' managing director of predictive analytics, said by email.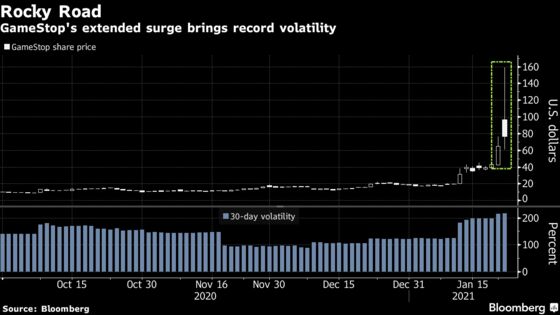 With GameStop's latest rally, the average price target by all Wall Street analysts of $13.93 implies the shares will lose more than 80% of their value in the next year. The ratio between its current share price and the average target is by far the biggest in the Russell 3000 and jumped for a third day, as crazed trading capped a stretch in which the 37-year-old company burned bears who had previously shorted 139% of its shares.