GameStop Slides Again Amid Wild Ride for Retail Traders
(Bloomberg) -- GameStop Corp. fell for a second day and posted its worst back-to-back loss in more than a month as Reddit-touted peers tumbled.
The video-game retailer slumped 5.4% to $208.17 as trading volume picked back up compared to recent days, while other retail investor favorites like headphone maker Koss Corp. and AMC Entertainment Holdings Inc. dropped. The broader market was mixed as optimism in the global economic recovery outweighed turmoil in vaccine rollout.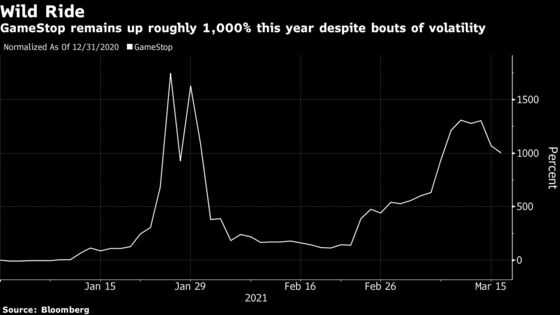 Several stocks that have ridden the wave of retail traders touting their picks on platforms like Twitter and Reddit stumbled in Tuesday's session as trading volumes accelerated. Cannabis company Sundial Growers Inc., veterinary health firm Zomedica Corp., and AMC were among the four most actively traded stocks with market value above $500 million -- each fell at least 6.8%.
While GameStop shares remain up roughly 1,000% so far this year, gyrations and billion dollar swings have opened up opportunity for skeptics to strike it rich. Bill Gross, the legendary billionaire investor and co-founder of Pacific Investment Management Co., told Bloomberg Television that he made about $10 million betting against the stock.
While he admits to getting in too early and having to hold onto the stock's wild ride, he said he's still betting against the company using options. He's selling call options at $250 and $300 which he sees as the perfect opportunity, Gross said in Tuesday's interview.