GameStop's Wall Street Following Has Dwindled Amid Reddit Frenzy
(Bloomberg) -- GameStop Corp. is heading into its first-quarter earnings report with half the number of analysts covering the stock than before retail traders helped fuel a quadruple-digit surge in shares.
The video-game retailer is currently covered by four analysts tracked by Bloomberg, down from nine analysts at the beginning of the year. As of Wednesday, GameStop has two hold and two sell ratings, according to data compiled by Bloomberg.
Telsey Advisory Group was the latest firm to walk away from the stock, discontinuing coverage of GameStop earlier this week. Analyst Joe Feldman said the firm is always reevaluating what it makes sense to cover given which stocks are attracting interest from its clients. He said institutional investors have had "almost zero interest" in GameStop since January, when share-price volatility surged as Reddit users touted the stock.
"Nothing from a real investor that wanted to learn more about the company, to get up to speed on the company, to invest real money in the company," Feldman said in an interview.
GameStop shares gained as much as 6.7% Wednesday ahead of the company's earnings report expected after market close. The stock closed at $300 on Tuesday, almost five times the average analyst price target of $62, and is up 1,547% this year.
Read more: GameStop Results Are Moot After Reddit-Fueled 1,480% Surge (1)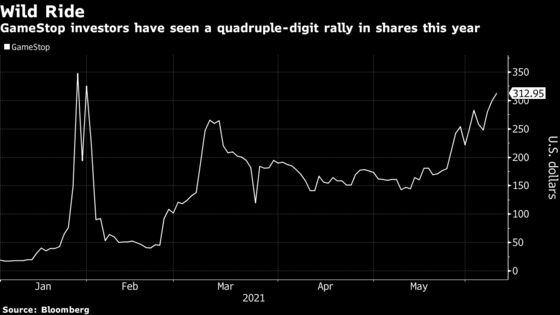 GameStop is among several so-called meme stocks that have seen their analyst following shrink amid increased volatility. William Blair recently dropped coverage of AMC Entertainment Holdings Inc. Last week, BofA removed its rating on Bed Bath & Beyond Inc., saying that shares of the home-furnishings retailer were no longer trading on fundamentals.