GameStop Slumps as Lawmakers, Fund Chiefs Spar on Retail Traders
(Bloomberg) -- GameStop Corp. slumped to the lowest level in almost a month Thursday after a House Financial Services Committee hearing on retail trading and the video-game distributor.
The shares sank 11% to $40.69 after members of The U.S. House of Representatives sparred with executives from Robinhood Markets, Melvin Capital and Citadel. The stock briefly rebounded after Keith Gill, who helped push GameStop on Reddit's WallStreetBets forum, said he still sees it as a good investment. The shares were little changed in postmarket trading.
The Grapevine, Texas-based company has been a focus of the retail craze that has drawn ire from Washington and gripped Wall Street which led to a nearly $31 billion wipeout in its market value. At one point, individual investors were unable to trade shares of the retailer and other stocks as brokers including Robinhood Markets set trading limits, drawing outrage from account holders.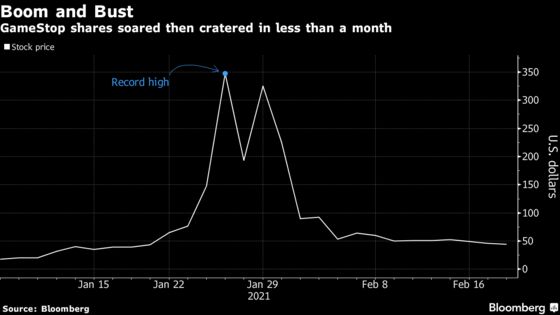 The surge for heavily shorted stocks from GameStop to AMC Entertainment Holdings Inc. was triggered by individual investors who flooded social media platforms like Reddit and Twitter. While backlash against short sellers like Citron Capital's Andrew Left sparked the initial rally, the euphoria reached its peak late last month when the stock capped off a 2,728% rally and dealt massive losses to prominent hedge funds including Gabriel Plotkin's Melvin Capital.
Thursday's virtual hearing -- titled "Game Stopped? Who Wins and Loses When Short Sellers, Social Media, and Retail Investors Collide" -- featured testimony from Wall Street bigwigs including Citadel Securities founder Ken Griffin and Melvin Capital Management Chief Executive Officer Plotkin.
"Melvin will adapt and the whole industry will have to adapt," Plotkin said when discussing the meme-stock phenomenon.