GameStop Analyst Sees 'Zero Terminal Value' After Outlook
(Bloomberg) -- GameStop Corp. shares tumbled on Tuesday, after it reported a steep decline in same-store sales for the holiday shopping season and lowered its guidance for the year.
Analysts viewed the announcement as the latest bit of bad news for the video-game retailer, coming on top of multiple quarters of disappointing results as well as an aborted effort to sell itself.
The stock fell 13% and touched its lowest level since September. Shares have lost about 70% of their value from a peak in January 2019.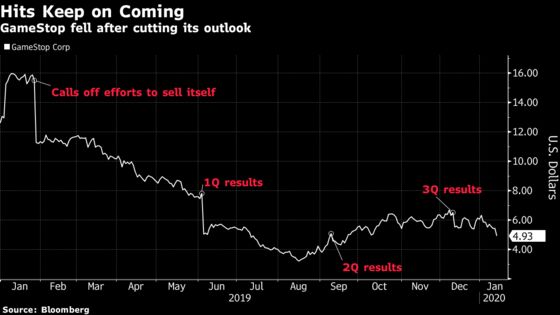 Here's what analysts are saying about the news:
Benchmark Co., Mike Hickey
"Deteriorating financial momentum has accelerated, management appears to have abandoned accountability and we see zero terminal value."
Expects "ongoing weakness over the next several quarters" as digital distribution for games "cements its grip on player purchase behavior."
Sell rating, $3 price target.
The news shows that "challenges continue," with the console and digital transitions representing a "double whammy."
The company's liquidity situation "appears OK for now."
Neutral rating, $5 price target.
Loop Capital Markets, Anthony Chukumba
The holiday sales were "well below our expectations," and fiscal 2019 results "are tracking to be significantly worse than in the last year of the prior video game console cycle."
The company has a "fairly healthy" balance sheet.
Hold rating, $4 price target.
Even though GameStop had expected a challenging holiday, the decline seen in new hardware and software sales "was well below expectations."
Reiterates outperform rating and Street-high price target of $8.
"Once GameStop is debt free, the short thesis begins to deteriorate." The upcoming launch of new video-game consoles is seen as a positive catalyst.
Story Link: GameStop Analyst Sees 'Zero Terminal Value' After Cut Outlook