Fugitive Venezuelan Colonel Is Shown Confessing to Coup Attempt
(Bloomberg) -- A fugitive Venezuelan colonel captured last month after slipping back into the country was shown on video Thursday confessing to ties with the Central Intelligence Agency and Colombian officials.
Colonel Oswaldo Garcia Palomo, 54, who'd publicly professed plans for rebellion and whose welfare was the focus of international attention, is shown looking reasonably fit in a dress shirt standing against a neutral background. He described logistical support and freedom to enter and exit Colombia as he worked last year to overthrow President Nicolas Maduro's socialist government.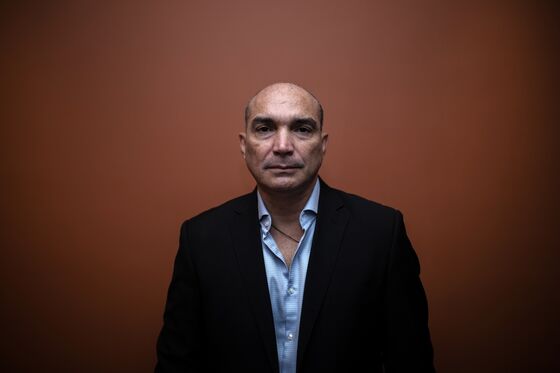 "We managed to get a very important group together," Garcia said. He added that he spoke with a CIA agent in Tampa, Florida, who told him the U.S. was considering military action in the first quarter of 2019. Garcia said he told the agent he and his group wanted to carry out a coup without U.S. help. "Let's resolve this ourselves, we Venezuelans," he said.
The video was presented by Information Minister Jorge Rodriguez at a press conference in Caracas. Rodriguez said Garcia had ties to opposition politicians and intended to rally soldiers to mutiny, close off the capital, and overtake the presidential palace.
"We were following Mr. Garcia Palomo's extensive operation very closely," Rodriguez said, adding the colonel was captured on January 30 by intelligence officials who infiltrated his group. "He provided abundant testimonies that lasted hours and hours, all of which he gave voluntarily."
Alonso Medina, Garcia's lawyer, said in a telephone interview that Garcia showed signs of torture including bruises on his abdomen, cuts on his legs, and burns on his wrists. "He also told me they injected some unknown substance into his hands,'' Medina said.
The retired colonel was among scores of officers and special-forces troops across all four branches of the Venezuelan armed forces who launched one of the most serious failed coups last year, known as Operation Constitution. The plan was infiltrated and dozens of his fellow plotters were arrested and tortured; he escaped and continued to agitate.
Garcia's capture is a sign that, despite the growing support for Guaido to replace Maduro -- whose May re-election was widely condemned as rigged -- the government remains in charge of key elements of the military apparatus.