FuboTV Ends Stock Rout After Preliminary Revenue Tops Consensus
(Bloomberg) -- FuboTV Inc. shares soared on Tuesday after the "sports first" streaming-video platform announced preliminary fourth-quarter revenue that came in ahead of its prior guidance, helping to end a precipitous multi-day sell-off.
The company forecast total fourth-quarter revenue between $94 million to $98 million, compared with an earlier outlook of $80 million to $85 million. According to data compiled by Bloomberg, analysts expect fourth-quarter revenue of $87.1 million. FuboTV also gave a forecast for paid subscribers that was above its previous forward guidance.
The company said it could not comment further as it is in a quiet period ahead of the release of its full results.
The stock spiked as much as 21% on volume that was more than 250% of its daily average over the past three months. Tuesday's jump was the latest example of elevated volatility for Fubo; it is coming off a seven-day drop of more than 60%, which itself followed a five-day rally of more than 130%. Including Tuesday, 12 of the past 13 trading days have featured a double-digit percentage move in Fubo shares.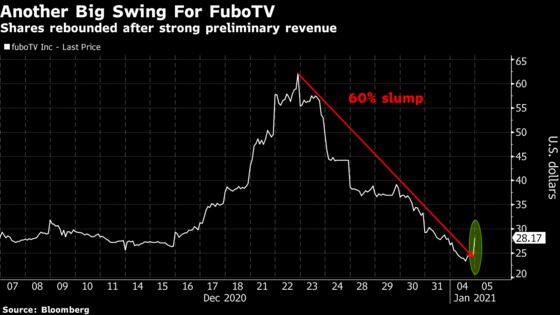 The weakness in Fubo shares came amid a souring of analyst sentiment, and also reflected pressure from the recent expiration of a share lockup for company insiders. According to Laura Martin, an analyst at Needham, the "enormous supply/demand imbalance" related to the lockup had been settled with the decline.
"We never expect FUBO to be forced to absorb 6x shares traded again, which implies that this is a floor," she wrote in a note published before the preliminary revenue was released. She added that this week "should be FUBO's lowest share price, because the supply imbalance will subside and fundamental drivers will reassert priority."