Frontdoor Collapses After First Earnings Release Disappoints
(Bloomberg) -- Home services company Frontdoor Inc. shares plunge after the company slashed its yearly Ebitda forecast in its first earnings report since its spinoff from ServiceMaster Global Holdings.
Shares sank as much as 35 percent to $22.75 and are trading at their lowest ever since the mid-September spin. The drop is even more crushing for the longs, considering the stock came within cents of hitting $50 almost a month ago.
On Monday night's conference call, Frontdoor cited higher claims costs and continued investments in sales and marketing for cutting its 2018 adjusted Ebitda outlook to $215-$225 million from $245-$255 million.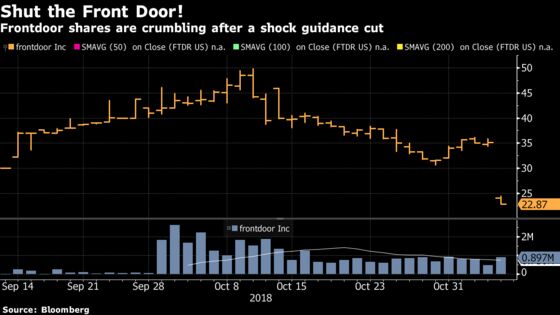 Oppenheimer analyst Ian Zaffino (outperform, price target to $40 from $48): "We are highly disappointed, given it is the company's first earnings release and management recently provided guidance"; expects the company to "take price to offset margin pressures" with a potential return to more normalized margins within a year
Compass Point's Chris Gamaitoni (buy, price target to $42 from $51.75): Expects recovery in share price to "take a while" with investors needing to see improvement in gross margin back towards its historical ~50% level
Gabelli's Paul Fanelli (buy): Expects the company to show improvements in several issues called out in the earnings report (part sourcing, higher rate of replacements versus repairs) over the next few quarters and get margins back in line with historical levels
ServiceMaster, the top holder of Frontdoor with a 19.8 percent stake as of Sept. 14, dropped as much as 3.7 percent.