Industry in France and Italy Stages Surprise New Year Comeback
(Bloomberg) -- Industry in France and Italy jumped more than economists forecast in January, providing some evidence that the euro-area economy may be stabilizing after a sharp slowdown.
Italy's 1.7 percent surge -- the biggest in five months -- will give the government hope that the economy is ready to gain traction and drag itself out of recession. France's production gain came in at 1.3 percent.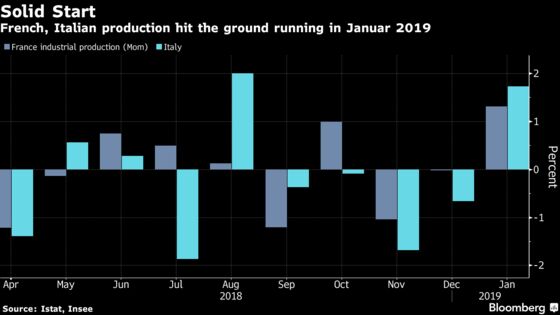 Germany took the shine off the positive numbers, reporting a huge drop in factory orders in January. However, the 2.6 percent decline may have been skewed by a large aircraft order that boosted demand the previous month. Europe's largest economy will publish its own industrial-production data, along with trade figures, on Monday.
The euro dipped slightly after the German data, but remained higher on the day. It was up 0.2 percent to $.1210 as of 10:51 a.m. Frankfurt time.
The figures come a day after the European Central Bank slashed its 2019 outlook for the euro area, unveiled fresh stimulus and pledged to keep interest rates low for longer. President Mario Draghi said risks to the outlook are still "tilted to the downside" because of threats including trade tensions and China's slowdown.
Even if momentum in Italy is picking up, the outlook for the euro zone's third-largest economy is grim. The OECD sees a contraction of 0.2 percent this year. Germany is predicted to grow less than 1 percent. The ECB cut its euro-area projection to 1.1 percent from 1.7 percent.
What Bloomberg's Economists Say

"Virtually all the readings from Italy this week suggest the country is pulling out of recession...For the foreseeable future, we forecast growth rates of 0.3 percent."

David Powell, senior euro-area economist
Click here for the full research.
"This was a significant downgrade," Frederique Carrier, RBC's Head of Investment Strategy, said on Bloomberg Television. "This is probably the low point, and with labor markets continuing to get better, despite the slowdown, with banks lending, 1.1 percent should be achievable this year."