French Growth to Pick Up This Quarter, Bank of France Estimates
(Bloomberg) -- French economic growth will accelerate at the start of 2019 and business leaders expect activity to pick up this month, a Bank of France survey showed.
The central bank said its monthly index of business activity suggests GDP growth of 0.4 percent this quarter, slightly ahead of the 0.3 percent pace in the final three months of 2018.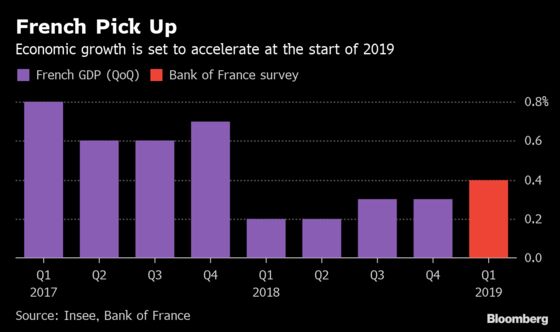 The rosier outlook came despite a drop in a measure of business sentiment to 99, its lowest level in more than two years. Services confidence also fell one point to 100, the long-term average for the indicators.
Business leaders in industry expect a "pick up" in February after a decline in production in January, the Bank of France said. In services, the Bank of France said activity is expected to accelerate after a slow-down in January, particularly in temporary work.