French Factory Output Contracts as Growth in Services Picks Up
(Bloomberg) -- French manufacturing output contracted for the first time in more than two years as carmakers scaled back production while growth in services accelerated.
A composite Purchasing Managers' Index rose to 54.3 in October from 54.0 the previous month, IHS Markit said on Wednesday. While orders picked up in services, demand for French manufacturing goods fell to the lowest in four months.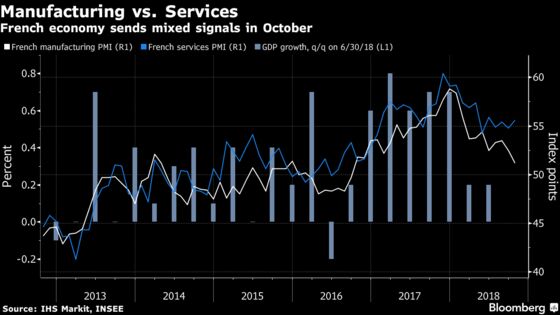 "October data signaled a mixed picture," said Sam Teague, an economist at IHS Markit. "Anecdotal evidence pointed toward a weaker automotive sector."
Renault SA reported a bigger-than-expected drop in third-quarter sales Tuesday, as turmoil in emerging markets from Turkey to Iran cut into business. The company also lowered its market outlook for China, where a slowing economy and deepening trade tensions with the U.S. are unsettling consumers.
The reports come after the Bank of France revised up its estimate for third-quarter economic growth on the back of strong industrial production.
In October, job creation accelerated to a six-month high across the private sector, cost pressures continued to build, and capacity constraints remained elevated, IHS Markit said.