French Consumer Confidence Drops
(Bloomberg) -- Uncertainty over France's economic outlook rose on Tuesday as a measure of consumer confidence showed the country's main growth engine is quickly losing power.
Consumer confidence in the euro area's second-largest economy fell further below its long-term average to its lowest level in over three-and-a-half years in November, data from statistics agency Insee showed. The monthly reading dropped to 92 from 95, while economists were expecting only a one-point decline.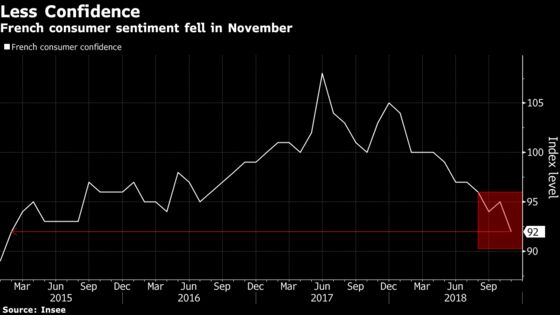 Consumption in France is already facing disruption from protests against President Emmanuel Macron's gasoline taxes. Finance Minister Bruno Le Maire said on Monday that sales for large retailers have fallen by as much as 35 percent on days when protesters have blocked roads, fuel depots and warehouses.
With household spending and investment making up around 60 percent of gross domestic product, consumer weakness could dent growth at the end of the year and derail the government's deficit reduction plans.
A slip in French consumer confidence is the latest warning sign for the European Central Bank as it is set to decide in December whether and how to pare back crisis-era stimulus.
Italian consumer and manufacturing confidence figures later on Tuesday will provide a gauge of how widespread the confidence decline is in the euro area after a German business confidence measure fell for a third month.
Insee's report showed sharp declines in households' assessment of their capacity to make significant purchases or make savings in the future.
The report also showed a slump in expectations of future living standards, a spike in unemployment expectations and an increase in consumers' evaluation of inflation.