French Bonds Feel the Blues on Fear of Japanese Bidding Sayonara
(Bloomberg) -- Tremors from the Bank of Japan's policy changes are being felt in France.
French bond investors are now more fixated on what their counterparts from Japan are up to than developments in their own region, and for a good reason. France ranks No. 2 among the $2.4 trillion of global debt owned by buyers from the Asian nation, and that makes the securities particularly vulnerable to the risk that rising yields in Tokyo could lure some of that money back home.
The yield premium on French 10-year bonds over German equivalents has climbed from a three-year low in April amid concern Japanese investors will pull funds to invest more in their own country. Rates on the Asian nation's debt due in a decade doubled this year, helped by the Bank of Japan's move in July to allow greater fluctuations, and any further increases could see the Japanese choose domestic bonds over foreign ones, according to Aviva Investors.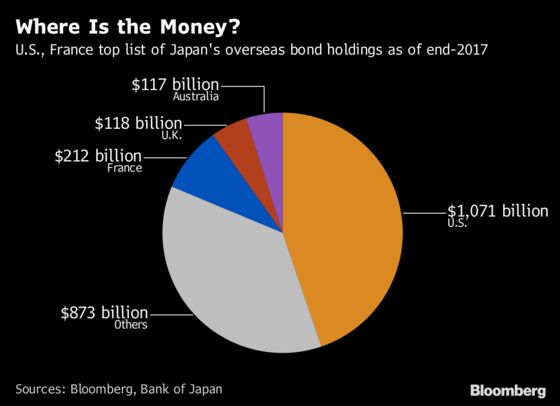 "French spreads at these levels do not look particularly attractive if Asia is not going to be the backstop bid for that market," said James McAlevey, a London-based money manager at Aviva. "If and when that economics doesn't look good for Asia, given how important they've been, I do think France goes through a bit more of a structural, sustained widening."
McAlevey said he may look to enter a short position in the securities should the 10-year yield spread over Germany narrow to 30 basis points, compared with 33 basis points Tuesday. French 10-year yields were at 0.70 percent. The similar rate in Japan is 0.098 percent, up from 0.048 percent at the end of 2017. Japanese investors bought more French securities than they sold every month bar one in the first half of 2018.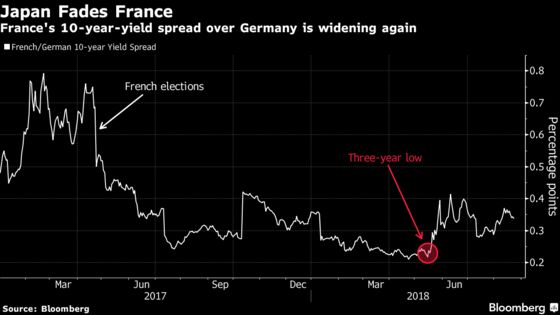 In the near term, political risks surrounding Italy's much anticipated budget next month could also weigh on French bonds, according to Commerzbank AG.
"French bond spreads will remain driven by overall risk appetite," said Michael Leister, Commerzbank's head of rates strategy. "The volatile range trading is set to continue and see risks of a renewed widening bias as the budget process for 2019 gains momentum."