Texas Governor Asks LNG Exporter Freeport to Use Less Gas
(Bloomberg) -- Texas Governor Greg Abbott's office has asked the Freeport liquefied natural gas export terminal to dial back operations in keeping with the state's disaster declaration amid a polar blast.
To limit gas and power consumption, Freeport will shut down LNG production units 2 and 3, which will result in unplanned flaring, the company said Tuesday in a regulatory filing. Freeport also said it had to shut unit 1 on Monday because of freezing conditions affecting a pretreatment facility.
Cheniere Energy Inc.'s Corpus Christi LNG terminal is also reducing its demand on the grid, according to a spokesman. Both the Texas terminals started up in 2019, with another still under construction and others proposed.
The governor's order marks the first time Texas has asked LNG exporters to curb operations amid emergency conditions. Though the industry is still nascent, exports of the heating and power-plant fuel climbed to a record late last year. The current deep freeze is likely to call LNG's role in the energy market into question amid concern that shipments to overseas buyers are contributing to a domestic gas shortage during extreme cold.
"LNG exports are definitely contributing to a gas shortage, and continued LNG exports are driving scarcity for natural gas for power generation in the U.S.," said Katie Bays, managing director at FiscalNote Markets. "American consumers generally have zero patience for seeing foreign buyers take priority. So the question is more whether there will be a political response, not what that response would be."
The most likely response would be additional scrutiny as to whether the Energy Department can pull back LNG exports when demand is particularly high, Bays said. U.S. energy regulators said Tuesday that they're opening a joint inquiry into operations of the power system during the intense cold.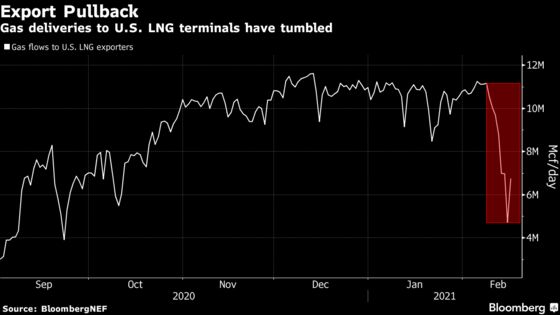 Arctic cold in the central U.S. has left almost 5 million customers without electricity and has wreaked havoc on the gas and power markets. Gas production has tumbled to a three-year low as the frigid weather triggers blackouts and causes liquids to freeze inside pipes, forcing wells and processing plants to shut.
Freeze May Only Temporarily Hinder U.S. Gulf Coast LNG Exports
Freeport's shutdown may play into the perception among LNG buyers in Asia that the U.S. isn't a reliable source of supply, Bays said. U.S. exports also plunged last year when a hyperactive hurricane season forced terminals along the Gulf Coast to go offline.
"In LNG markets, reliability is everything," Bays said. "So that is a potentially negative long-term implication."