Free Streaming Services Rescue Cash-Strapped Couch Potatoes
(Bloomberg) -- When the streaming service Pluto TV launched in 2014, one of its most-watched programs was a YouTube channel from Japan that showed cat videos 24 hours a day.
The platform didn't have the budget for premium content. Even the aging 1960s sitcoms that remain a staple of low-power TV stations were too pricey for the fledgling online business, according to Pluto co-founder and Chief Executive Officer Tom Ryan.
"We would have loved to have 'Gilligan's Island,'" Ryan said in an interview.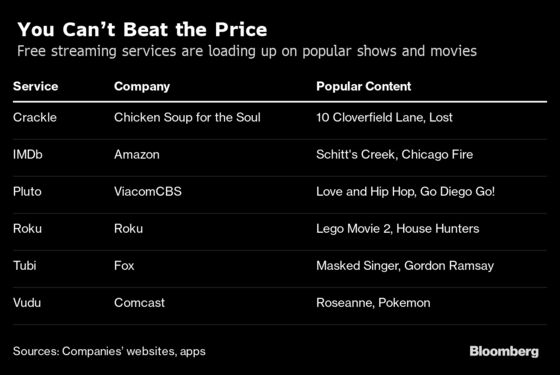 It's a different story today. On May 1, the free streaming service, now owned by ViacomCBS Inc., began airing the first five seasons of "The Walking Dead," the megahit zombie series from cable's AMC network. It joins a binge-worthy lineup on Pluto that included all of the James Bond films and a channel devoted solely to the reality show "Cops," which started in March.
Pluto TV isn't the only free streaming service trying to capitalize on this moment. With the U.S. -- and much of the world -- still in some form of lockdown, there's huge demand for online video. But the slumping economy has left many consumers with less money to spend.
No-cost services, which rely on advertising for revenue, see it as their time to shine.
"There's a lot of good stuff you can watch for free," said Catharine Burhenne, head of marketing for Reelgood, an app that help fans find shows online. "People are willing to watch ads again."
Pluto's ad-supported model dates back to the dawn of broadcasting, when pioneers like CBS leader William Paley began offering free entertainment to consumers willing to suffer through a few commercials every hour. Network TV eventually grew to reach virtually every U.S. household.
That approach is finding new life in the coronavirus era. Active monthly Pluto users jumped 55% in March from a year earlier, reaching 24 million, Viacom said. And record numbers of cable-TV cancellations suggest consumer interest in free online TV will continue to grow.
Major media companies are embracing the free-streaming model. Fox Corp. put reruns of its top-rated entertainment program, "The Masked Singer," on Tubi last month, just three days after acquiring the ad-supported service for $440 million. Comcast Corp., through its Fandango movie-ticket unit, is buying the streaming service Vudu from Walmart Inc. for an undisclosed sum. It's also rolling out Peacock, another ad-supported streaming service.
It's an increasingly crowded field, with free services already offered by Amazon.com Inc.'s IMDb, the video-rental outfit Redbox, and Crackle, a spinoff from Sony Corp.
For now, all of the players are benefiting as a new generation of viewers watch online instead of via cable or satellite. Downloads of the Pluto app more than tripled to 3 million in April from 900,000 in January, according to SensorTower, a market researcher. Sign-ups for Tubi jumped 30% to 4 million over the same period, while Vudu's leapt 55% to 673,000.
Advertisers are starting to follow the eyeballs, according to David Cohen, president of the Interactive Advertising Bureau. While marketers have pulled back on spending because of the global pandemic, they are moving more money into online video.
Global online video advertising grew more than 20% last year, according to Magna Global, and was projected to expand at a double-digit rate again this year. Roku Inc., which sells ads for other services and its own Roku Channel, said the business will deliver substantial year-over-year growth in spite of the coronavirus.
"We've been watching steady growth for some time, and this is only going to accelerate," Cohen said.
One looming question is how long the new services will have access to programming. By joining with media conglomerates, companies like Pluto and Tubi will be able to dig deep into the the libraries of entertainment giants such as Viacom, Fox and Comcast.
But others will confront the challenge facing Netflix Inc.: old suppliers like Walt Disney Co. pulling programming for their own services. Both Disney and AT&T Inc., parent of Warner Bros. and HBO, are now focused on their new streaming platforms. As a result, they're licensing fewer of their own movies and shows -- from "Star Wars" to "Friends" -- to third parties.
There is no shortage of old TV and movies around the world. The proliferation of new services is letting fans discover programs they might never have come across, according to Parrot Analytics, which uses social media to track viewing habits. Parrot saw a jump recently in the Japanese animated shows "Naruto" and "JoJo's Bizarre Adventure." Both are on Pluto and Vudu.
At Tubi, viewing more than doubled to 200 million hours in April, according to Adam Lewinson, chief content officer. Fans are clicking on everything from old programs, such as the 1960s vampire soap opera "Dark Shadows," to more recent reality fare like "Dance Moms." The service's programming budget topped $100 million last year.
"When you spend at those numbers, it's a good sign where the business is headed," Lewinson said.