France Says U.S. Must Drop Tariffs Threat Over Digital Taxes
(Bloomberg) -- French Finance Minister Bruno Le Maire said the U.S. must drop trade tariffs against European countries over digital levies after all sides joined a global agreement on overhauling international taxation. 
Speaking to Bloomberg Television in Washington, Le Maire said he has made a political commitment to Treasury Secretary Janet Yellen to abolish France's levy on digital firms as soon as the new rules on sharing rights to tax profits of multinationals come into effect. The Organization for Economic Cooperation and Development, which oversaw the global negotiations, has said it aims for implementation of the deal as soon as 2023.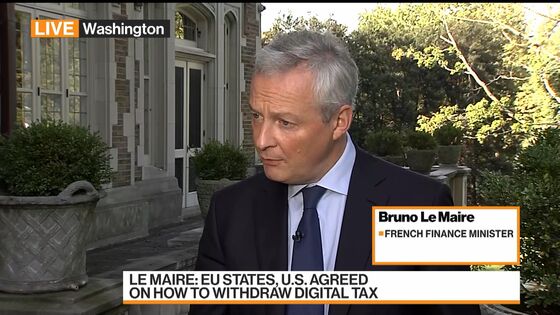 Other European countries have made similar commitments to France's, yet the U.S. has not offered a guarantee it will drop its threat to retaliate against national levies, Le Maire said. Tariffs against several European countries, including France, are currently suspended. 
"If we commit to withdraw our national taxation there must be a commitment from the U.S. administration to withdraw their tariffs on France and all European countries," Le Maire told Bloomberg's Annmarie Hordern. "That is the best way of building a constructive relationship and a friendly relationship between the two countries."
Treasury Department spokeswoman Alexandra LaManna said the U.S. had reached a "political agreement" with all European countries on existing digital levies "regarding transition mechanisms for the rollback of those taxes."
"This agreement should put an end to tax and trade disputes with our European allies," she said. Details of the agreements would be made public in "coming days," she said.