France's Le Maire Seeks Clarity on Ghosn Before Renault Changes
(Bloomberg) -- France will only seek a permanent management change atop Renault SA's if the carmaker's jailed Chief Executive Officer Carlos Ghosn can no longer perform his duties, Finance Minister Bruno Le Maire said.
"Our position remains the same: There'll be a change only if Carlos Ghosn is durably prevented" from continuing in the roles of chairman and CEO, Le Maire told reporters Monday in Paris. He reiterated that France, Renault's most important shareholder, remains committed to the carmaker's long-running alliance with Nissan Motor Co.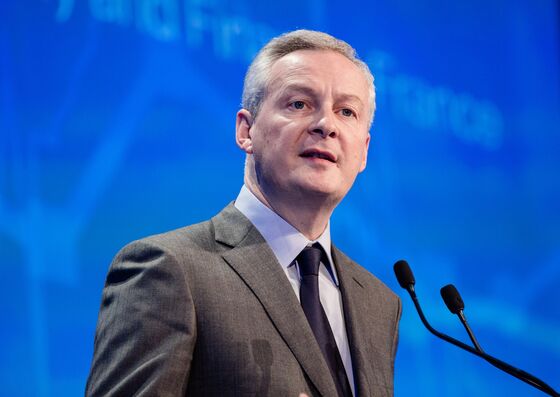 Ghosn, who was arrested in Japan on Nov. 19 over allegations of financial crimes, could remain in jail for months, while Japanese prosecutors pursue the legal case against him. Nissan, whose investigation contributed to Ghosn's arrest, and Mitsubishi, have ousted him as chairman. Still, Le Maire cited the presumption of innocence for Renault's decision to keep him on as CEO and chairman so far.
Renault's interim governance is functional, Le Maire said, adding that he had met with interim CEO Thierry Bollore and acting chairman Philippe Lagayette Friday, as part of a daily monitoring of the situation at the Renault-Nissan Alliance, which was joined by Mitsubishi in 2016. "There's a pilot on the plane," Le Maire said.
A ruling by a Tokyo court on his application for bail could come as early as Tuesday, and help clarify whether he technically could go back to work. Ghosn, 64, was indicted Jan. 11 for a second time by Japanese prosecutors. He's accused of understating his compensation for years and transferring personal trading losses to Nissan.
Attention has turned to Ghosn's aides, including Mouna Sepehri, who is deputy head of Ghosn's office at Renault, after the company on Friday said its board examined her compensation. No financial issue has been uncovered at Renault, according to a French government official.
The carmaker is looking into the pay of its top executives in a probe that has widened to those working at the Amsterdam-based alliance, Renault said Friday. No fraud has been uncovered for 2017 and 2018, and their pay over previous years will be examined, the company said.
France would support splitting the roles of CEO and chairman at Renault if Ghosn is replaced, the official said. Ghosn is also chairman of the alliance.
France has started to shortlist potential successors as chairman for Renault, with Michelin CEO Jean-Dominique Senard as frontrunner, a person familiar with the matter said last month. Asked about plans for possible replacements, Le Maire simply said: "We've performed all the due diligences."