France Leads U.S., U.K. With Citizens Saying Economy Must Change
A majority of people in France and half in Germany, the U.K. and the U.S. want to see significant changes to their nation's economic system following the coronavirus pandemic, according to a report by Pew Research Center.
Some 70% of respondents in France said their economy needs major changes or should be completely reformed compared to 50% who said the same in the U.S., Germany and the U.K. When asked about five specific policies, government-sponsored job training got the most support in the four countries surveyed, Pew said in its report published Thursday.
The pandemic has prompted countries around the globe to reevaluate their economic system and policy makers have responded to the crisis aggressively with massive fiscal stimulus measures. Americans stood out for being the most optimistic that standards of living will improve, Pew said.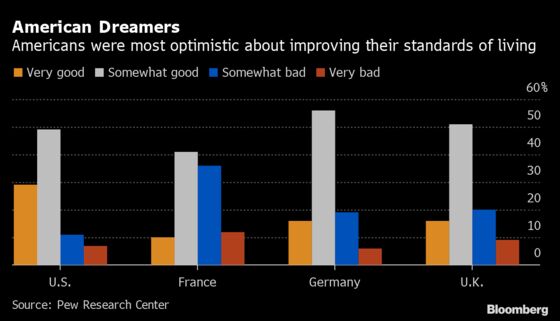 In addition to more job training, building more public housing and increasing benefits for the poor were the most popular policies. Changes aimed at wealth redistribution -- raising taxes on the rich and providing a universal basic income -- were lesser priorities overall.
The survey was conducted in November and December 2020, Pew said.