France Banks on Pickup in Wheat Exports to Reduce Big Stockpile
France is banking on a pickup in exports to draw down its mountain of wheat.
The European Union's top producer has seen soft-wheat exports outside the bloc lag last season's pace, as sluggish demand from Algeria offset bigger purchases from sub-Saharan Africa and China, according to FranceAgriMer. Still, the crops office on Wednesday raised its export outlook for the full season and said shippers expect sales to top customer Algeria to recover.
Finding overseas buyers for one of France's biggest ever crops will be key to reducing stockpiles forecast to end the season at a three-year high. While competition between major exporters in the EU and Black Sea region is expected to remain tough, there are signs that French grain is becoming more appealing, particularly to importers outside the bloc.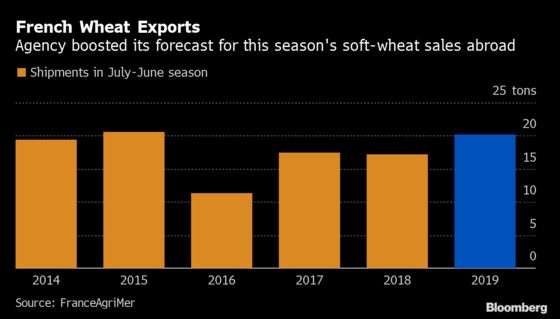 "The quality and quantity this year is exceptional," Philippe Heusele, president of France Export Cereales, said in an interview Tuesday in Casablanca. "It will enable us to secure more deals in Morocco and Algeria."
Morocco's imports are exported to climb after a dismal harvest, and France aims to grab nearly two-thirds of the demand, France Export Cereales said this week.
Takeaways From FranceAgriMer
The crops office raised its outlook for French wheat exports 3.6% to 20.2 million tons on higher sales to non-EU nations.
Ending stockpiles are seen at 2.9 million tons, up 18% from last season.
Exports to Algeria are expected to reach 5 million tons, similar to a year earlier.
French wheat is doing well in some markets. Top importer Egypt has booked 180,000 tons of French grain so for this season, the most for this time of year since 2014. China has also bought about 144,000 tons of wheat, versus nothing at this time last year, FranceAgriMer data show.
That's helped milling wheat futures in Paris to climb to a two-month high. Prices have also rallied as snow and drought threaten crops in other key exporters and as Russian prices picked up in recent weeks.
"Looking at the big supply we have this year, we'll have to stay competitive against the Black Sea," Laurent Crastre, a grains and oilseed analyst at French consultant Strategie Grains, said by phone. "That's what we need to get these export forecasts."