Foxtons to Prioritize Rentals as London Property Woes Increase
(Bloomberg) -- Four years ago, Foxtons Group Plc was riding the crest of London's housing wave as surging demand sent home values in the U.K. capital soaring.
Since then, the estate agent's share price has fallen by almost 90 percent as the city's residents and landlords hold off on buying homes, while overseas demand remains damped by a series of tax changes. That's leading the firm, best known for its Mini-driving brokers, to prioritize its rentals business, Chief Executive Officer Nic Budden said in a presentation.
"The property sales market in London is undergoing a sustained period of very low activity levels with longer and less visible transaction outcomes, which clearly impacts our business," Budden said Monday in a statement. "After a slow start to the year, performance in our lettings business improved throughout the period, delivering another consistent result for the first six months."
Foxtons' shares rose 5 percent as of 10:18 a.m. in London, giving the company a market value of 138 million pounds ($181 million). The stock has declined 39 percent this year.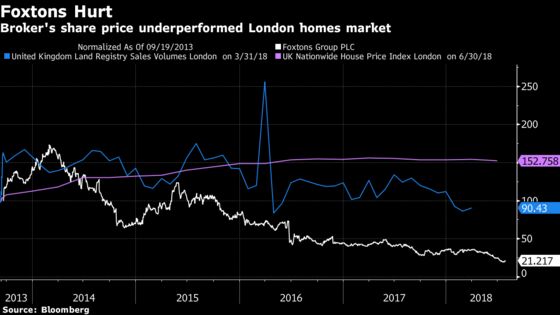 Revenue from sales fell by almost a quarter in the first half compared with a year earlier, leading the firm to carry out an impairment review. There are few signs the London market will improve in the short term. The number of people looking to buy was flat in June, according to the Royal Institution of Chartered Surveyors. More homeowners are looking to offload their properties just as sales and values decline, making it more difficult to secure deals, which are at a near decade low.
"Buyer uncertainty continues. Downward price adjustment having little or no effect," James Gubbins, a broker at Dauntons in the district of Pimlico, said in a survey by RICS published earlier this month.
Foxtons' letting business was less hurt by the property malaise. Revenue from the rental business fell 1 percent in the first half compared with a year earlier, and the firm views the unit as a source of reliable income in the future.
Other highlights from the firm's earnings:
Cash pile is now down to 11.8 million pounds, compared with about 18 million pounds at the end of last year
Pretax loss of 2.5 million pounds in first half compared with a profit of 3.8 million pounds in same period last year