Fox Cuts Pay to Cope With Health Crisis Its Own Hosts Downplayed
(Bloomberg) -- Fox Corp. suspended the salaries of top executives, including Chairman Rupert Murdoch, as it copes with a coronavirus crisis that its own news commentators were criticized for downplaying.
Chief Executive Officer Lachlan Murdoch, Rupert's eldest son, and three other corporate officers will have their salaries eliminated through September, the company said on Wednesday, saying it was navigating "an unprecedented health crisis." Other executives at Fox, including Fox News CEO Suzanne Scott, will have their pay cut in half. About 700 employees in all will see some salary reductions.
Fox joins other media giants in making cutbacks during the pandemic. But it's unique in being the nation's top cable-news source for information on the virus. The network has been criticized for downplaying the severity of the outbreak, particularly early on.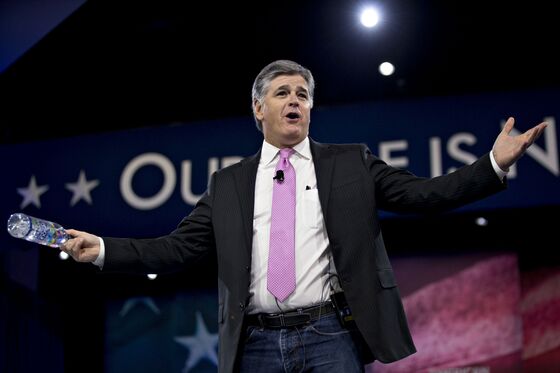 "I don't like how we are scaring people unnecessarily," Fox News host Sean Hannity said on his program March 9. "Unless you have an immune system that's compromised and you are older and you have other underlying health issues, you are not going to die 99% from this virus."
Hannity, one of the network's biggest stars, went on to suggest the virus threat was created to thwart President Donald Trump's election campaign.
"They're scaring the living hell out of people and I see again as, 'Let's bludgeon Trump with this new hoax,'" he said.
Since the virus first appeared in the U.S. in January, some 815,200 people have been diagnosed with the illness and more than 44,700 have died.
Employees at the company have been working from home for weeks. In a memo to staff, Lachlan Murdoch said he was extending the work-from-home requirement until May 15. Fox had 7,700 full-time employees at the end of June.
"As always, we will monitor and modify our approach to returning to normal operations based on recommendations from health experts and elected officials," he said.
Fox also is dealing with the suspension of live sports, which has hurt viewership for networks such as Fox Sports 1. And advertisers have cut back on spending during the crisis. Still, Fox News, which delivers the bulk of the company's profits, has seen a surge in viewers, as shut-at-home consumers tune in for updates, particularly on the response from Washington.