Fourth N.Y. Area Set to Reopen; More Elective Surgeries Allowed
(Bloomberg) -- New York Governor Andrew Cuomo said four of 10 regions are ready to reopen on Friday, and elective surgeries can resume in several counties.
The governor added the rural North Country to the list of regions that have met seven key metrics, after it increased its testing capacity. The Finger Lakes, Mohawk Valley and Southern Tier are ready, while Central New York has to meet one more metric and New York City is several steps away.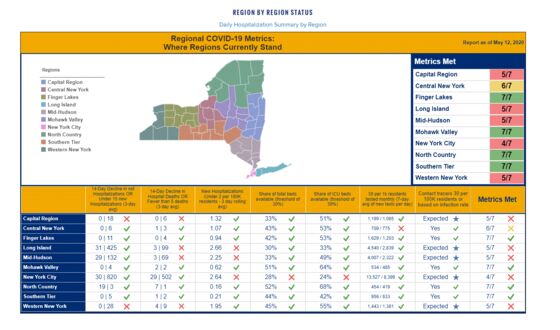 Elective surgeries will resume in 12 more counties, the governor said, but not in New York City, Rockland, Westchester and Erie Counties, nor on Long Island.
"We are reopening on the metrics," the governor said Wednesday at a press briefing in Watertown. "But that doesn't mean, OK we're done. We're reopening. Monitor every day, and that's the regional responsibility."
New York is on a path to recovering from the virus outbreak, as hospitalizations decline and the rate of increases in cases and deaths slows. Deaths from Covid-19 on May 12 totaled 166, the third straight day it was below 200. Last week the increase hovered between 200 and 300.
The state reported another 2,176 cases on Wednesday, an increase of less than 1%, for a total of 340,661.