Sydney Lockdown Shows Limits of Australia's Covid-Zero Strategy
(Bloomberg) -- Australia's so-called "Covid-zero" strategy is under increasing strain, with an outbreak of the delta variant forcing at least half-a-million residents of Sydney into lockdown for a week.
New South Wales state Premier Gladys Berejiklian on Friday ordered people who live or work in four of Sydney's most populous areas, including the CBD, not to leave their homes unless for specified essential reasons. The outbreak has climbed to 65 cases, with 22 new locally acquired cases recorded since the day before.
The lockdown "is in order for us to ensure that this doesn't take a hold for weeks and weeks and we believe this is a proportionate response to the risk," Berejiklian said. While she had previously barred about 1 million of Sydney's population of 6 million from leaving the city, the new measures show concern is rising about how the virus is quickly spreading in the local community.
'Covid Zero' Risks Being 'Covid Limbo' Amid Slow Vaccine Uptake
Sydney's outbreak is the latest example showing how efforts by Covid-zero nations -- which include Singapore, Hong Kong and China -- to eliminate the virus are now keeping them isolated, even as highly-vaccinated countries such as the U.S., U.K. and parts of Europe start to open up.
Once admired for their approach that kept borders shut and the health impacts of the pandemic relatively low, slow vaccine rollouts are now exposing Australia and neighbor New Zealand to the ongoing risk of breakouts as more virulent strains spread, disrupting plans to keep their economies open.
Adding to the problem, both Australia and New Zealand have struggled with securing and rolling out vaccines. The lack of infections has made Australians hesitant around receiving jabs, particularly given concern about blood clots from the AstraZeneca Plc vaccine that's being given to people aged over 60.
In response to the Sydney outbreak, other states and territories have now implemented travel restrictions against residents of the city, and a travel bubble between New South Wales and New Zealand has been suspended.
The virus is believed to have originally escaped into the community from a driver who works for international flight crews. At least 20 other leaks into the community are thought to have started via hotels being used to quarantine residents returning from overseas.
The Sydney outbreak "shows the system is porous, and this is the normal that we have to deal with while we wait for the government to get the vaccine rollout right," said Kyle Rodda, a Melbourne-based analyst at brokerage IG Markets. That leaves the business community feeling nervous, frustrated and with "a slight apprehension -- there's still this difficulty to be able to plan anything more than a quarter out in advance," he said.
Prime Minister Scott Morrison is under pressure to ramp up the nation's tardy vaccine rollout. While the federal government has abandoned its original October target to inoculate the population, it's also said it won't reopen borders until its safe to do so, meaning Australia is likely to be isolated from most of the world into next year.
The country of more than 25 million people has administered shots to cover 13.7% of its population, according to Bloomberg's vaccine tracker, versus the U.S. at over 50% and the U.K. at 56%. New Zealand has inoculated just 10.3%, the tracker shows.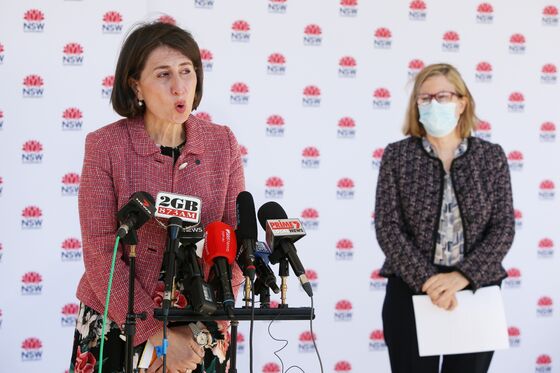 The areas of Sydney to be locked down midnight are Woollahra, Waverley, Randwick and City of Sydney, all in the center of the metropolis. The four reasons to leave are shopping for essential goods, medical care or compassionate needs, outdoor exercise, and essential work or education that can't be done from home.
With authorities ordering anyone who has worked in those areas within the past two weeks to also stay home, the total number of people required to enter lock down will be higher than their population sizes indicate. Census data from 2016 showed that of the 500,000 people who worked in the City of Sydney alone, about 85% commuted in from other suburbs.