Former Venezuela Diplomat Backs Military Threats to Oust Maduro
(Bloomberg) -- A military intervention may be necessary to bring humanitarian aid to Venezuela and possibly topple Nicolas Maduro, according to a former senior Venezuelan diplomat who broke with the government in 2017.
Venezuela is now controlled by drug cartels and militant groups including Colombia's FARC and Lebanon's Hezbollah, Isaias Medina told reporters at the United Nations. The governments of Cuba and Russia are also active and won't cede ground easily, he said. Medina left his post at the UN mission in Venezuela due to the killings of protesters.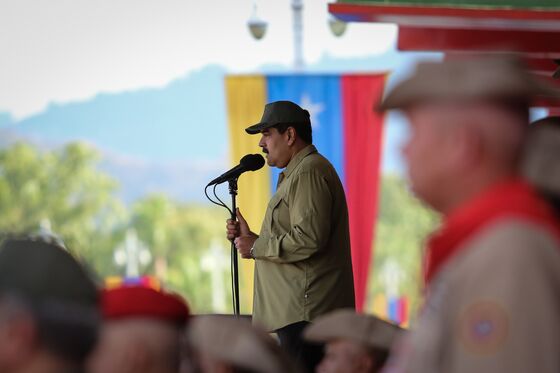 Venezuela needs to "vacate the invaders so that we can bring back the rule of law," he said. "We do need more strength to negotiate with a strongman. The main intention is to bring humanitarian assistance, and if it must be done by military support, so be it."
U.S. President Donald Trump has stepped up pressure on Maduro and said using the military to remove him remains an option. While most Latin American nations backed the U.S.'s initial moves against Maduro, including sanctions, all have balked at the idea of using foreign military forces to remove Maduro, including neighbors Colombia and Brazil.
"I think we need the strength of the U.S., Brazil, and Colombia," he said. While he refused to use the term "military intervention," Medina said the U.S. should press with an "international humanitarian intervention" because "Maduro is a clear and present danger and a risk to the national security of the U.S."