Former South Korean President Lee Sentenced to 15 Years in Jail
(Bloomberg) -- A South Korean court sentenced former president Lee Myung-bak to 15 years in jail for taking bribes from Korean conglomerates while in office, becoming the country's fourth head of state to be convicted on corruption charges in as many decades.
The sentence handed down by a panel of three judges at the Seoul Central District Court was more lenient than the 20 years sought by prosecutors who charged Lee with bribery, abuse of power and embezzlement. Lee, who has denied the charges, can appeal to a higher court.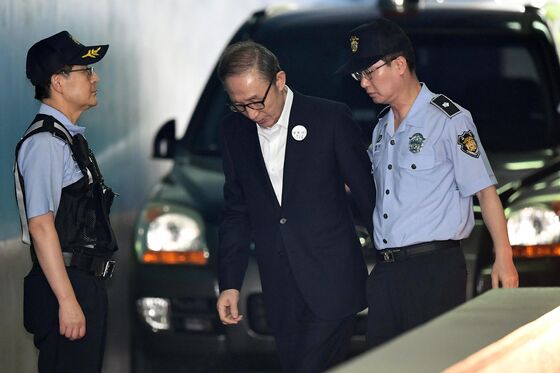 Lee was president of Asia's fourth-largest economy from 2008 to 2013. His conviction follows that of former president Park Geun-hye, who was impeached last year and in April was sentenced to 24 years in jail after being found guilty of bribery, abuse of power and leaking of state secrets.
Former heads of state Chun Doo-hwan, president from 1980 to 1988, and Roh Tae-woo, president from 1988 to 1993, were also convicted of corruption among other charges. Both were later pardoned.
The corruption charges against Lee stemmed from a probe of his brother's auto parts company, which prosecutors alleged Lee used as a way to enrich himself while in office. Prosecutors alleged Lee embezzled about 35 billion won ($31 million) from the auto parts company, according to Yonhap News.
Lee, 76, was elected into office after gaining popularity as a self-made man amid the country's surging economic growth post the Korean War. He spent years as a street vendor before entering a prestigious college in Seoul. Later he joined Hyundai Engineering & Construction, where he rose to become its chief executive officer.
His early years as president were tainted by the global financial crisis and massive street protests over his agreement to allow imports of American beef.
Lee, who refused to attend the trial, accused prosecutors of carrying out political revenge on behalf of current President Moon Jae-in's liberal government. Lee said just before his arrest in March that he hoped "this is the last time in history" that a former president is victimized.