Former N.Y. AG Eric Schneiderman Barred From Practicing Law for Year
(Bloomberg) -- Former New York Attorney General Eric Schneiderman's license to practice law in the state will be suspended for one year to resolve disciplinary proceedings over his abuse of women, including the slapping and choking of two romantic partners without consent between 2013 and 2017.
Schneiderman, who resigned shortly after the behavior was exposed in a May 2018 New Yorker article, must continue treatment with a mental health professional and submit to supervision by the New York City Bar, according to a court order Tuesday in Manhattan approving the settlement.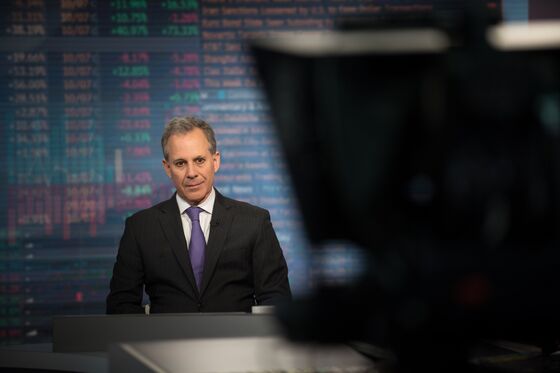 The accord resolves a so-called petition of charges filed in August against Schneiderman by the state court system's Attorney Grievance Committee. Brandy Bergman, a spokeswoman for Schneiderman, declined to comment.
The relatively short one-year ban is warranted because Schneiderman "does not have any criminal or disciplinary history, he has a significant record of public service, and he has taken steps to address his alcohol abuse and past abusive behavior via his participation in AA and therapy," the order said.
Schneiderman, a self-styled advocate for women who built his reputation as a courtroom foe of President Donald Trump, avoided charges in a separate criminal investigation because of a gap in state law that allows some slapping and choking without consent if it's for "sexual gratification," a prosecutor said in November 2018.
At the time, Schneiderman's behavior was quickly condemned by New York Governor Andrew Cuomo, who is now embroiled in his own scandal over alleged mistreatment of women, including employees. New York Attorney General Letitia James has opened a criminal probe into claims against Cuomo made by multiple women, while the New York Assembly is conducting an impeachment inquiry. The governor has said that the investigations would find no misconduct because he "didn't do anything wrong."
Schneiderman, a Democrat who took office in 2011, publicly apologized for the behavior in 2018.