Former French Ministers Defend Ghosn as Government Holds Fire
(Bloomberg) -- In contrast with the French government's caution, former officials and opposition politicians have jumped to the defense of Renault SA Chairman Carlos Ghosn.
Whether from the left or the right, ex-ministers and politicians have rushed to defend Ghosn, using strikingly similar language to accuse Nissan of plotting against arguably France's best-known businessman.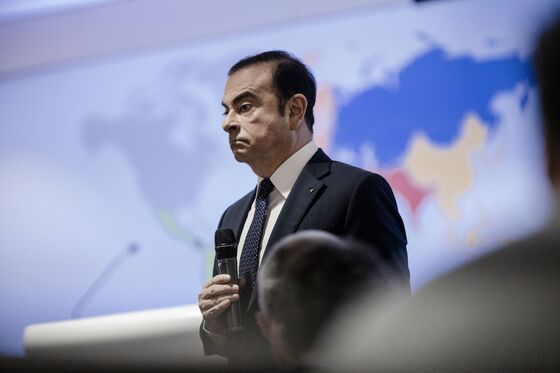 "There is a clear attempt to destabilize, a move that should be sanctioned," former Socialist Economy Minister Arnaud Montebourg said Thursday on RTL Radio.
"My fear is that behind the Ghosn affair is a wish by the Japanese to destabilize the Renault-Nissan group, either to explode or to weaken Renault within the alliance," Laurent Wauquiez, who was both European Affairs and Labor minister under former center-right President Nicolas Sarkozy, said Thursday on Radio Classique.
"The whole affair has been of an extreme violence," Thierry Breton, Sarkozy's former Finance Minister said Wednesday on France Inter. "It's very rare to see that type of arrest in Japan with 10 police officers and a camera crew."
The remarks contrast with the cautious stance adopted by French President Emmanuel Macron and his government on the arrest of Renault SA Chairman Carlos Ghosn in Japan, saying they don't have details of the accusations against him but remain committed to the French car maker's alliance Nissan Motor Co.
The Les Echos business daily had an article Thursday entitled "Is the Plot Theory Credible" that quoted unnamed business sources who thought it was and unnamed government people who advised against rushing to conclusions. Asked whether he believed in a plot, Wauquiez, who is now head of the opposition The Republicans party, said "right to the end."
Both Montebourg and Breton saw Nissan Chief Executive Officer Hiroto Saikawa as being behind Ghosn's arrest.
"What was also shocking was to see several hours after the arrest the CEO, all alone and before the board meets, announcing the decision of the board," said Breton, who is CEO of Atos AS. "Well, only the board can make that decision and only after a meeting."
"The CEO had very strong words," said Montebourg, who now runs a honey business after his failed presidential bid. "He announced the decision of a board meeting that hadn't even been held."
In a heated press conference on Monday, Saikawa said that a months-long probe found Ghosn had under-reported income and misused Nissan company funds and that the actions meant Nissan would move to dismiss Ghosn.
Nissan's board is meeting Thursday to decide whether to dismiss Ghosn over allegations of concealing income from tax authorities and using company funds for personal use.
In Paris, Renault's board gave Ghosn the benefit of the doubt despite the allegations, putting in place new interim leadership but letting the Renault CEO keep his title, saying he should be presumed innocent until more details surface. President Emmanuel Macron has only said he'll be "vigilant" about the interests of Renault, and Finance Minister Bruno Le Maire has said the French government remains "totally attached" to the alliance.
Renault owns 43 percent of Nissan while the Japanese car maker holds 15 percent of the French automaker, but without any voting rights, and Nissan has long been unhappy about what it considers an outsize French role. Saikawa made reference to that perceived imbalance at his at times blistering press conference late Monday.