Italy's Already on Precipice of Debt Spiral
(Bloomberg) -- Forget slap-downs from European officials and the soaring risk premium to Berlin, this is what should keep populists in Rome awake at night: Bond yields have already jumped to the point where Italy's $2.7 trillion debt load will expand faster than the economy is projected to grow.
The nation's weighted-average yield needs to drop to about 2.63 percent from 3.21 percent for it to exit the danger zone, Richard McGuire, head of rates strategy at Rabobank, told asset managers in meetings in Madrid last week.
For Italian politicians, this simple bond math might serve as a warning for fiscal restraint over the long haul, perhaps more so than the now-famous "lo spread" to Germany's yield.
"Unless you can somehow re-establish credibility, there's this vicious circle now," Richard McGuire, head of rates strategy at the Dutch bank, said in an interview. "The debt trajectory is really key, and it's in the ascendant."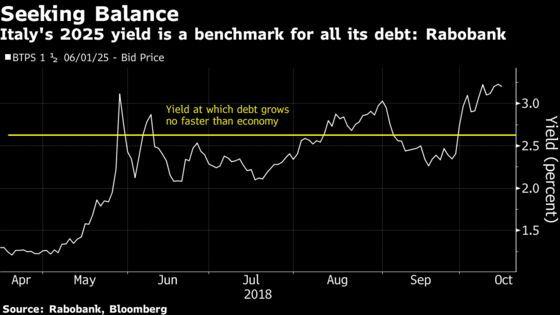 Of course, the scenario only plays out gradually, as the government begins to refinance at elevated yields and thereby tests the pain threshold. Italy's next debt auction is on Oct. 26, the same day decisions on the country's credit ratings are expected from S&P Global Ratings and Moody's Investors Service, another factor that will help determine borrowing costs.
"The damage to the economy from tightening financial conditions would probably take a few quarters to start having significant macro consequences, and the electoral deadline seems to be short enough to justify this gambit in the minds of the political leaders," JPMorgan Chase & Co. analyst Marco Protopapa wrote in a note Monday.
That horizon is most likely until European elections in May 2019, Protopapa said.
The populist-led government delivered its budget proposal to the European Commission on Monday with a fiscal deficit expected to be too high for European officials to accept. Meanwhile, total government debt rose 1.7 percent annually through August, data released Monday showed.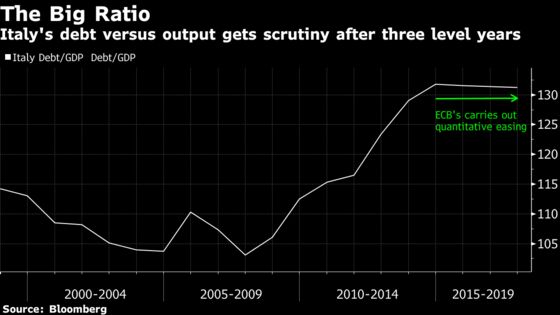 In the meantime, Rome's budget defiance of the European Commission has money managers scrutinizing fiscal deficits to credit-default swaps to decide whether political risks are more likely to be temporary, creating a buying opportunity, or a warning of more trouble to come.
There's an urgency to win favor among those investors, because the government is set to lose its biggest buyer: The European Central Bank is winding up more than three years of euro-zone bond purchases that have taken more than 360 billion euros of Italian debt off the market.
For their part, the recently-installed populists predict debt/GDP ratio will decline through 2021, thanks partly to more optimistic economic projections than those of the International Monetary Fund. The government is predicting 1.5 percent growth for 2019, versus 1 percent by the IMF.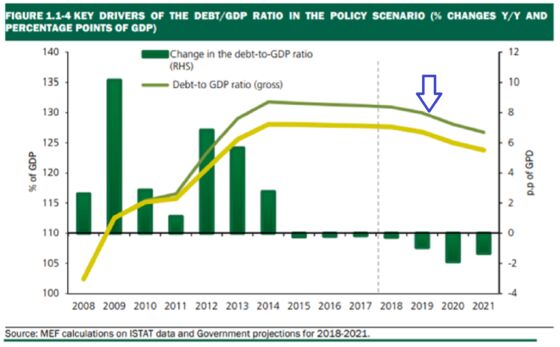 Italy's ratio came in at above 131 percent last year, according to data compiled by Bloomberg. That's still below Greece and Japan at 182 percent and 236 percent, respectively.
While there's no magic threshold to divine fiscal sustainability, investors traditionally recognize a structural limit on how much an economy lacking full monetary autonomy can service liabilities via domestic resources like tax revenues.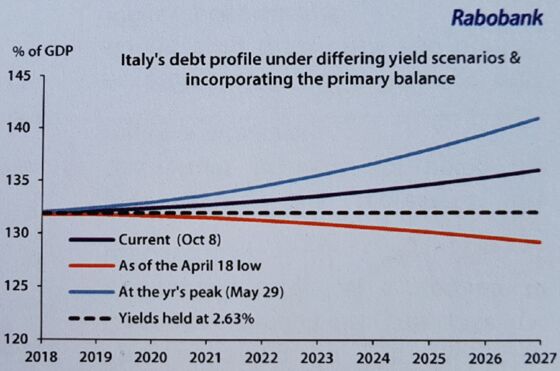 Forecasting total debt to economic output is a complex task, with many assumptions. Rabobank's model surmises that yields in short- and long-term securities will move higher or lower in parallel. It also calculated a weighted-average maturity point of 6.9 years, based on Oct. 8 levels, using IMF growth estimates.
"This is at the center of investor radars," McGuire said. "The higher market-based borrowing costs will feed into the bloodstream."